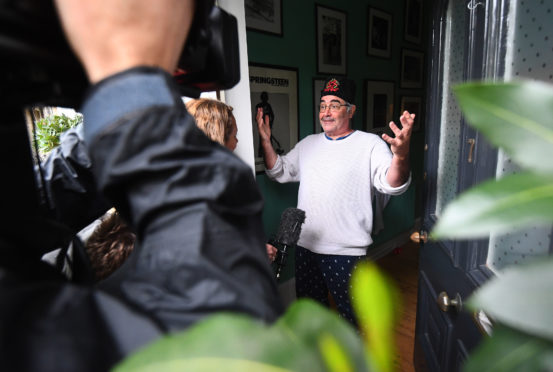 The Royal Family and I have a long-standing agreement: they ignore me and I ignore them.
Call it the mellowing of middle-age, but while a few years ago I was an ardent republican, these days the existence of the Royal Family elicits nothing more than a shrug, rather than the fury it used to.
Yes, the money we spend on the royals could probably be put to better use. Yes, it is wrong to think someone is somehow intrinsically better, or worthy of millions of pounds because of an accident of birth but are the royals really worth getting upset about? The answer is no.
In fact, I have even mellowed to the stage where I am prepared to admit the royals are very good at what they do. What they do often may not appear like very much to us mere plebs, but it is worth something.
Every time I've had to report on a royal visit in Dundee I have, grudgingly, been forced to admit that they carry out their public duties in exemplary fashion.
When the Duke and Duchess of Rothesay visited Dundee for the commemorations marking the 100th anniversary of the Battle of Loos in 2015, it wasn't their formal functions that were impressive, it was the time they spent laughing and joking with veterans, making them feel like stars of the show.
Similarly, Prince William and Kate Middleton may live in a gilded cage, but have never appeared anything less than genuine and engaged when on royal duties in Dundee, whether that's cooing about the V&A or listening to the concerns of children at The Corner.
I mean, I can barely feign interest in my own job, never mind anyone else's and yet every royal has perfected the art of appearing completely sincere when talking to the endless stream of people, dignitaries and members of the public they are required to.
Whether it is genuine or artifice doesn't really matter – the effect is the same.
And while the idea of hereditary monarchy remains an anachronism, this week it emerged the Royal Family may, sadly, be far ahead of many people when it comes to 21st Century family life.
Prince Harry and Meghan Markle welcomed their son Archie into the world this week, an event that should have been a cause for celebration. Even if you have no truck with the royals, the birth of a child should always be a happy occasion.
And yet because Meghan Markle has a black mother, some of the worst elements of society have bubbled back up to the surface.
The broadcaster Danny Baker – who posted a picture a of a chimp in a top hat – has been the most high-profiled casualty. Baker, a talented broadcaster, has repeatedly referred to royals and members of the upper classes as chimps, but should have been smart enough to know how the image could and would be interpreted. Pretending not to be aware of the possible offence you may cause is not an acceptable excuse, particularly over such a sensitive issue.
Baker is probably not racist but there is no doubt some of the comments made, unsurprisingly, by anonymous internet trolls about the new royal baby have been.
Jokes about the colour of baby Archie's skin – about any baby's skin – do not belong anywhere in civilised society.
When we look back to some of the racist so-called humour of the 70s and 80s it rightly makes our flesh creep.
That some feel it is acceptable to air similar jokes today makes you weep.
A matter of taste
Scientists at St Andrews University have discovered that ordinarily squeamish humans can overcome their distaste for the unpalatable if the circumstances are dire enough.
Researchers discovered that cadets at army training camp quickly overcame their disgust of things like mouldy food in the fridge after just a few hours of mild discomfort.
In other words, we're all just two days without food away from a descent into a Lord of the Flies-style battle for survival, if not outright cannibalism.
This means that if the predicted post-Brexit food shortages do happen I'll be taking no chances and will carry a packed lunch at all times or, failing that, some seasoning just in case things come to their worst.
Savagery and cannibalism is one thing, but there's no reason to be uncivilised about it.
Shame of thrones
The justice system moved a little slower than normal in Dundee this week when a blocked toilet caused chaos at the sheriff court.
The court's reception area was flooded and filthy water was seen dripping from the ceiling, causing several hearings to be delayed.
Lady Justice is often seen wearing a blindfold. In Dundee she may need a peg on her nose too.