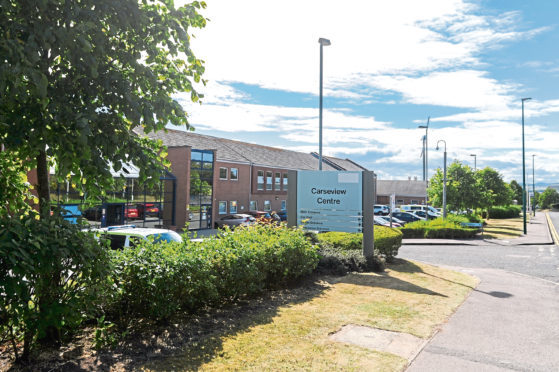 Patients who pose a risk to the public have been allowed to discharge themselves from hospital in Dundee, according to a damning new probe.
The Independent Inquiry into Mental Health Services in Tayside publishes its interim report today and the 22-page document,  by inquiry chairman David Strang, pulls no punches as it catalogues a series of catastrophic failings.
It was commissioned following a campaign by relatives of suicide victims who claimed their loved ones had been turned away from the Carseview Centre at Ninewells Hospital.
More than 1,300 people have given evidence to the inquiry, including patients, families, carers, organisations and NHS staff.
Six key themes have been identified for further investigation: patient access to mental health services, patient sense of safety, quality of care, organisational learning, leadership and governance.
The interim report paints a picture of a service bereft of leadership and where the referral process for patients is no longer "fit for purpose".
It reveals:
The Crisis Team struggles to cope with surges in demand and families concerned about their relatives are sometimes told to phone the police or NHS 24 instead.
Patients believe there is a lack of adequate risk assessment and those telling staff they felt suicidal were not believed until they tried to take their own lives.
The centralisation of mental health services at the Carseview Centre in Dundee has had a "detrimental effect" on patients.
The transfer of patients from the Mulberry Unit at Stracathro to the Carseview Centre  showed "poor change management" with "little consideration" for individuals.
GPs feel their concerns are not accepted and their referrals are subsequently rejected by mental health services.
People with alcohol and/or illegal drug problems are often refused mental health treatment and there is no holistic approach to treatment.
It appears possible for patients to self-discharge from inpatient services, including those with a "particular focus on harming someone, giving rise to public safety concerns".
Some patients who have discharged themselves had subsequently been found in a heightened state of distress or disorientation by police patrols.
Staff are unable to control the use and availability of illegal drugs on wards.
Staff are unclear about the process for reviewing adverse events while finalised reviews often leave key questions unanswered.
Flaws within NHS Tayside's complaints are undermining public confidence in the health board.
It is "not clear who is responsible for leading the service" and there is "little visibility of mental health service performance monitoring and management at a senior level in NHS Tayside committees".
The report also highlights that some staff have not been properly trained in use of restraints and many patients feel unsafe on wards. Some have raised concerns about sleep deprivation, the sexual behaviour of other patients and lack of protection for their property.
Outside agencies in the voluntary sector offering support to patients on wards are reportedly "discouraged" or "made to feel unwelcome".
The inquiry will now carry out further investigations and analysis before drawing firm conclusions and making recommendations to NHS Tayside.
Mental health minister offers assurances
Mental health minister Clare Haughey said said she had received assurances from NHS Tayside that it will act on the concerns.
She said: "It is absolutely vital that people using our mental health services, as well as those delivering our services, feel safe and know they will receive the right help, in the right place when they need it.
"The health board commissioned this independent inquiry in response to concerns about both the quality of, and access to, mental health services in Tayside and it is now imperative that they the board immediately act on the findings of this interim report."
Ms Haughey said a new body would be set up to ensure the failings in Tayside are not being replicated at other health boards.
She added: "The Scottish Government is also taking immediate action in response to this report. It is vital that the issues raised in Tayside are not present elsewhere, which is why today I am setting up and will chair a national Quality and Safety Board for Mental Health.
"This will create the right conditions to develop and spread excellence – we know many areas already have high quality services in place and we want to see those approaches replicated across the country, so that people can access high quality services when they need them."
MSP says litany of failures "too much"
Dundee-based Labour MSP Jenny Marra said mental health services in Tayside "fall below anyone's expectations".
She said: "This report cataloguing failure after failure will horrify families in Dundee who have lost loved ones and suffered poor care from our mental health services.
"Nobody is saying this is easy. But the litany of failures all in one service is too much.
"The Health Secretary must put mental health services on the highest level of government support until the final report is issued.
"NHS Tayside must heed the report's recommendation to halt the planned move of services until there is a comprehensive review of the mental health strategy."
She added: "Our public services must always be under scrutiny as today's report shows that the service in Tayside has fallen way below anyone's lowest expectations."
NHS Tayside was asked to comment.
---
Read more on the Carseview Centre here