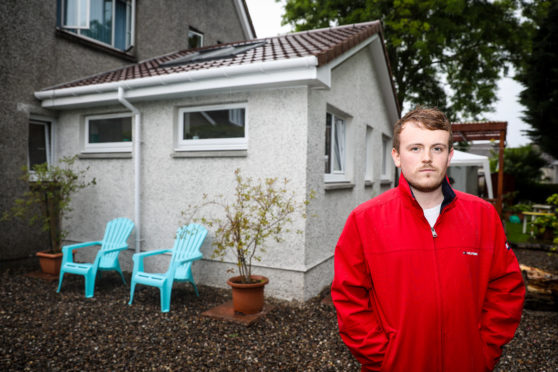 A Dundee man's red tape row with the city council over a £65,000 extension has ended after the local authority declared the work safe.
Frankie Moran, 25, was furious when the city council told him it needed to dig into his extension after paperwork from previous building standard inspections seemingly went missing.
Mr Moran warned there was "no way" he was prepared to allow the council to disrupt his Rhynie Road property because it was not his fault the documentation had vanished.
He has now received a letter from the local authority confirming officers are satisfied everything is in place.
Dundee council wants to dig into foundations of man's £65k extension over missing paperwork
It follows months of correspondence with the building standards department.
The development consists of a new lounge and kitchen. A conservatory that used to stand in their place was torn down to make way for the extension.
It is understood the council officer who carried out the inspections on the foundation and insulation in July and September last year has since gone on long-term sick leave.
Planning permission was granted for the development in April 2018 and Mr Moran went ahead with the building work as soon as he received verbal authority from the inspector later in the year.
He said: "I'm relieved that they are not having to dig up my property and have to drill a hole in the wall.
"The new rooms are used on a daily basis."
Among the documents he had to provide to the council was one showing smoke alarms installed in the new rooms were connected to the whole property's network. Mr Moran sent them an electrical certificate to prove that.
Another requirement was for Mr Moran to sign off on the fact the inspection had taken place in lieu of the missing paperwork.
Mr Moran said: "I noticed on social media some people saying a similar thing has happened to them.
"I am glad the council have shown the common sense to approve the work.
"I had to give them a new electric certificate and sign off to say there had been a safety visit and then everything was fine."
A Dundee City Council spokeswoman said: "The completion certificate has been accepted."