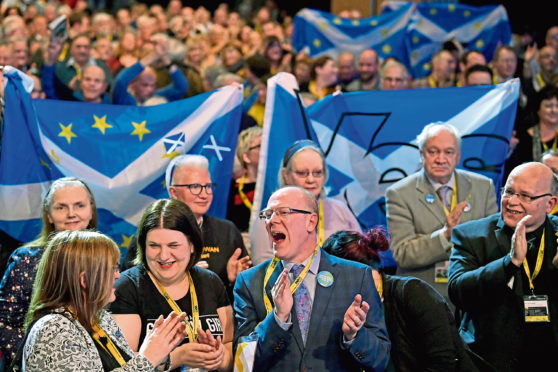 The White Paper on Independence published in 2013 was a hefty old document that used a lot of words to say very little.
For all the talk of living in the early days of a better nation, the Scotland it envisaged was a lot like the place everyone knew, only vaguely nicer and with a 3% reduction in corporation tax.
It was an approach designed not to spook the horses, but that allowed unionist parties to hitch a cart to one and drive it through policies like currency.
Had the campaign been less specific – Make Scotland Great Again, perhaps – there is a good chance we would already be independent.
But having tried to explain how independence would work once, the SNP will now always have to come up with a credible plan for life post-UK and cannot retreat into populist nationalism.
Given the disaster that is Brexit, a credible plan for independence is an entirely good thing.
The SNP has learned some lessons – it will not just have to demonstrate that Scotland could be independent, but why independence will be better for its people.
A new commission, with senior Dundee politicians Shona Robison MSP and council leader John Alexander drafted in to tilt at the windmills of social justice and fairness, has been created to help build this case.
It will no doubt come up with some well-meaning policies over the coming months and years.
Given their findings are already pre-ordained – that Scotland will become "fairer" under independence – it is unlikely to convert those crucial voters needed to win any future referendum.
But while the not-at-all-Orwellian-sounding social justice and fairness commission has been gaining plenty of attention, SNP members have the chance to vote on a more radical policy – and one that could genuinely transform Scotland – at the party's conference in Aberdeen today.
An amendment put forward by the party's Leith and Portobello branch is calling for the decriminalisation of drugs.
Dundee SNP councillor Ken Lynn, the vice-chairman of Dundee's health and social care partnership, has already said he will support the amendment and expects other delegates from the city will do the same.
The caveat, of course, is that Westminster has control over drug laws, so even if the amendment becomes SNP policy, decriminalisation is not likely to happen any time soon.
Nevertheless, as a statement of intent, it would carry some weight and show the SNP, which back in the White Paper had nothing to say about drug use, is finally getting serious about tackling one of Scotland's deadliest social ills.
Heroin abuse has been a feature of Scottish life for decades, and it is a national scandal that successive governments have done little more than pay lip service to the problem.
The death toll has been enormous, and the social cost incalculable.
The status quo is costing lives – and must be challenged.
Chef roasts customers
The decision by chef Dean Banks, left, to charge a group of tourists who failed to show up for their booking at his restaurant reminded me of an amusing, possibly apocryphal and definitely actionable, tale about St Andrews during the Dunhill Cup a few years ago.
It was alleged a certain A-list actor had been blacklisted from a number of restaurants due to his habit of booking tables and then not showing up.
Detective work that would put Coleen Rooney to shame discovered that said thespian was getting one of his flunkies to make reservations at restaurants across the town for the same time each night so he would always have a table at whatever venue took his fancy.
Needless to say, those restaurants that he did not bless with his presence on a particular evening were not even given the courtesy of a phone call to say he would not be coming.
Whether a £650 bill – as Banks imposed on his no-shows – would have improved his table manners is anyone's guess, but it certainly seems the American golfers charged by Banks will not be making the same mistake again.
Blair is back
Former prime minister Tony Blair was back in Scotland this week warning about the dangers of Brexit and Scottish independence.
The former Labour PM's hair has now gone disconcertingly white, just as Leland Palmer's did in Twin Peaks after he lost complete control of his murderous impulses.
Mr Blair had words of encouragement for Scottish Labour, suggesting that Ruth Davidson's departure from frontline politics creates a vacuum in the "rational centre" of politics the party could occupy.
Given he also admitted it would be a "struggle" to vote for the party he led to unprecedented electoral success in the next general election, his first claim seems as fanciful as the one made about weapons of mass destruction in Iraq all those years ago.
smorkis@thecourier.co.uk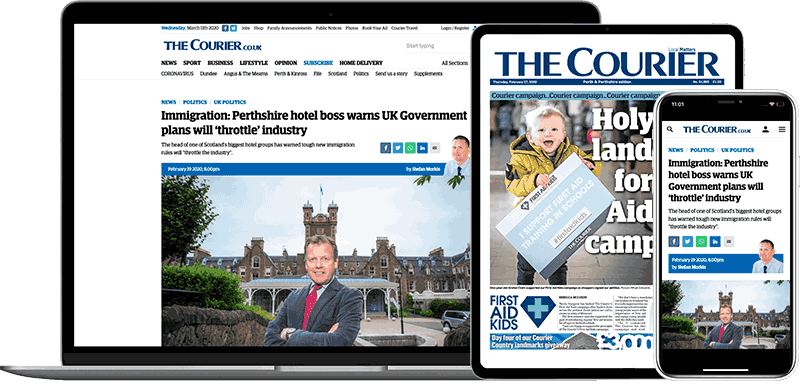 Help support quality local journalism … become a digital subscriber to The Courier
For as little as £5.99 a month you can access all of our content, including Premium articles.
Subscribe