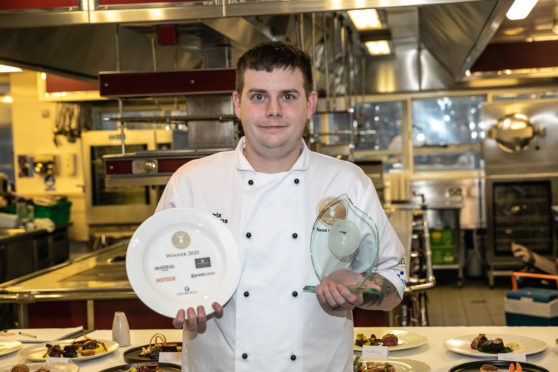 A Fife chef upped his game to win a coveted industry award on the fifth attempt.
Spud Henderson, who works for Craig Millar @ 16 West End in St Monans, was crowned Game Chef of the Year 2020 after wowing the judges with a venison Wellington.
Spud, who grew up in Kirkcaldy and now lives in Anstruther, said his motto was: "If at first you don't succeed, try, try again."
The 30-year-old said the secret of his success was cooking simpler dishes.
He said: "I got in five years ago but I was still in the early stages of my career.
"I was told I was making my dishes too complicated so I brought it back to simple, honest food."
He added: "I just wanted to show how much I have learned about game over the years. I just love cooking with it and a competition like this was a challenge I set to help gain experience and better myself."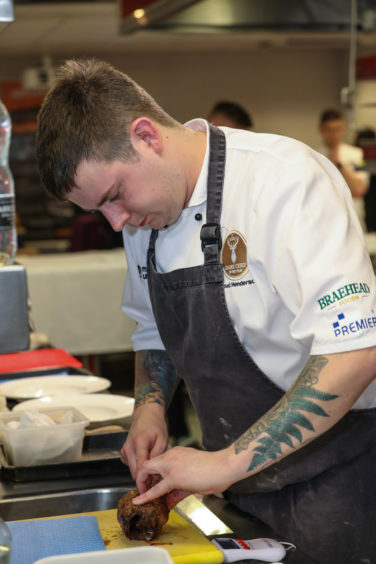 During a tense cook off at University College Birmingham, Spud produced a perfect main course and a starter of duck, ravioli and spiced broth.
Part of his prize is a trip to Sweden, where he will sample fine dining and take part in wild boar hunting.
But he does not currently hold a passport and is in a race to make a fast track application before setting off.
He said: "I've got an appointment on Monday and am flying out on February 8."
Chefs from across the UK competed in two semi-finals at Leiths School of Food and Wine in London and Ayrshire College, with eight making it to the finals in Birmingham.
The judging panel included Stephen McLaughlin of the two Michelin-starred Restaurant Andrew Fairlie.
Stephen said: "As shocked as he was, Spud is a very deserving winner of this year's award. He is a great example of what hard work, determination and raw talent can achieve."
Chairman of judges Ian McAndrew, who has been on the panel since the competition started and will be back for its 10th anniversary next year, said: "With the quality of entries improving year on year, the Game Chef of the Year competition is fast becoming the competition to win for all quality chefs wanting to test themselves.
"The prizes for those involved are both extremely generous and different to other competitions as they should be for such a prestigious event.
"Game is such a versatile and varied product that brings so much to a menu and is always popular with customers that a menu without any game on it is incomplete and to be able to use it well is a real skill."