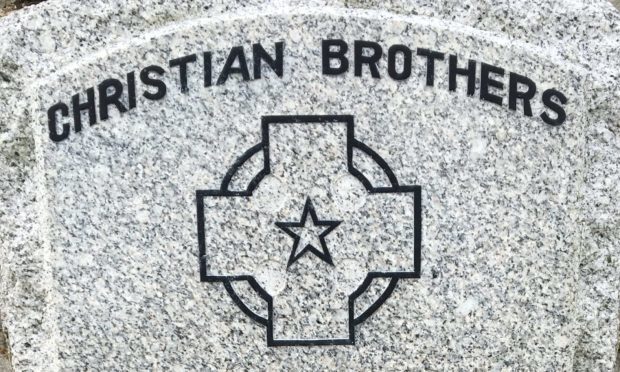 A relative of a young boy who died as a result of a boxing match at a children's home in Fife 60 years ago has launched a charity in Australia that aims to "educate empower and evolve" the community to help survivors of child sexual abuse.
Marc Mexsom, 36, from Perth, Australia, who says he was himself sexually abused as a 14-year-old while attending a football camp in Western Australia in the late 1990s, says his charity Community Courage will "take the power back from child predators" and has already received more than Aus$10,000 from supporters.
Marc contacted The Courier after reading a report online about his great uncle Alexander Harvey, who died under mysterious circumstances in 1960 while residing at Falkland's former St Ninian's School in Fife.
Alexander's grave is unusual as he is buried between two men of the Christian Brotherhood – Richard Albeus Fitton, who died at Falkland aged 75 in 1958, and John Kevin Nugent, who died aged 78 in 1977.
His death certificate records that the cause of his passing was "congenitally abnormal heart valve: diffuse myocardial fibrosis" – or congenital heart failure.
However, how Alexander came to be buried in the same grave as two Christian Brothers remains a mystery.
It emerged in recent years that the school, which closed in 1983, was at the centre of various child abuse allegations.
However, a former school friend recently told The Courier he was "not a victim of abuse".
"The 14 year old boy, Alexander Harvey, was my grandad's brother," explained Marc.
"My grandad Anthony Harvey was at a different orphanage – Smyllum, Lanark – and was also abused systemically there during his childhood . He passed away the same year I joined the Australian Army when I was 17 years old and I am taking up the fight that he didn't get the chance to finish.
"I have recently commenced a public campaign pertaining to helping past, present and future victims of child predators.
"This is a result of me finally being able to talk openly about being sexually abused by two adult males when I was 14.
"My campaign is only a few weeks old and already I have achieved my donation target and been referenced and supported in the Australian Senate. I was able to gain support from a Federal MP in the who publicly supported my campaign in Parliament as they drive for tougher sentencing for child sexual predators.
"I have received amazing community support and message from people all over Australia, and even from the UK and the USA, thanking me for being their voice. I am both humbled and excited about this support.
"I will continue to be a voice for all survivors and want to use this opportunity to shine the light on my grandad and his brother's history in the process."