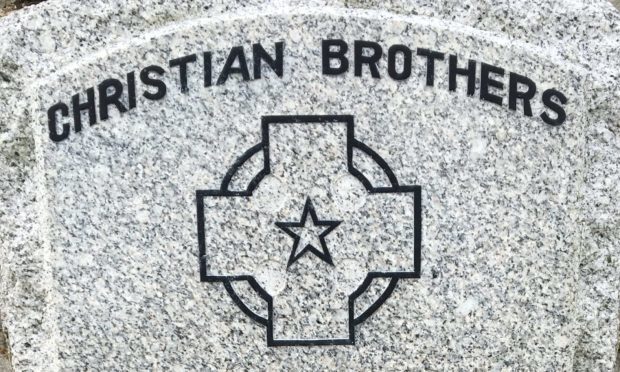 He lies beneath a striking headstone dedicated  to the Christian Brothers who once ran the former St Ninian's School in Falkland.
What makes the grave of 14-year-old Alexander Harvey, who died in 1960, particularly unusual is that he is buried between two men of the Christian Brotherhood – Richard Albeus Fitton, who died at Falkland aged 75 in 1958, and John Kevin Nugent, who died aged 78 in 1977.
There has been local speculation that the young boy buried in Falkland cemetery is a "forgotten victim" of the recently publicised abusive regime at the former St Ninian's School.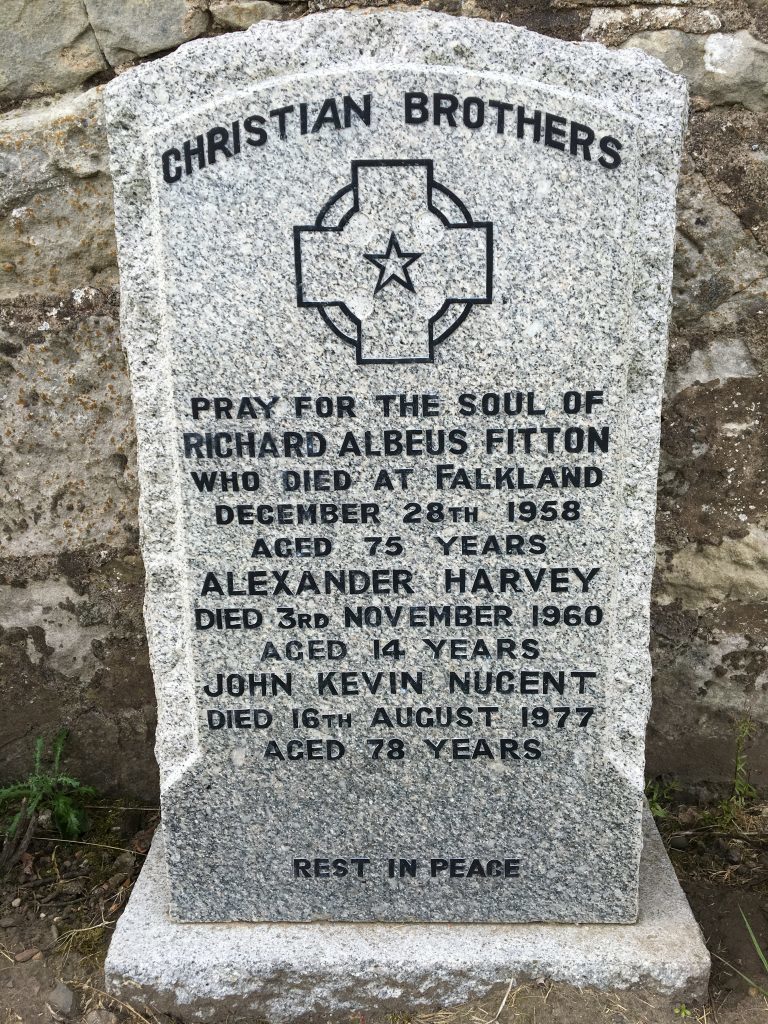 The grave in Falkland cemetery
Rumours have been circulating the Fife village recently that Harvey, thought to be an orphan, may have died at St Ninian's in suspicious circumstances.
However that appears unfounded, according to an investigation by a local councillor.
Former teacher Paul Kelly, 64, and head teacher John Farrell, 73,were jailed for 10 years and five years respectively at Glasgow High Court after being found guilty of abuse said to have taken place at the school between 1979 and 1983.
Further allegations, not heard in court, have been made about physical and sexual abuse by other staff dating back to the 1960s into the 1970s.
As the Scottish Child Abuse Inquiry looks into the scale of the problem nationally, Falkland residents have expressed shock that St Ninian's School, which closed in 1983, was the setting for any such heinous acts.
According to one well established Falkland businessman who contacted The Courier and asked not to be named, some older residents have told him there were rumours as far back as 1960 about abuse at the school, but nobody did anything about it because the Brotherhood was seen as 'untouchable' in those days.
The businessman said: "There's also been a lot of speculation about what happened to young Alexander Harvey. Is he a forgotten victim from the type of abuse we've seen recently in court?"
But research by Falkland Fife councillor David MacDiarmid has suggested there was a more rational explanation for Harvey's death.
Death certificate
Having tracked down a copy of Harvey's death certificate, it states that the cause of his passing was "congenitally abnormal heart valve: diffuse myocardial fibrosis" – or congenital heart failure.
According to a registrar's report signed at the procurator fiscal's office in Cupar on March 3, 1961, Harvey died :"Shortly after having engaged in a boxing match under supervision at said orphanage. The boxing match was stopped immediately on the deceased complaining of being tired."
Councillor MacDiarmid said: "The young lad seems to have passed away after boxing. There is very little knowledge of this event within the community of Falkland.
"1960 was a long time ago, but you have to imagine if such a death occurred today, it would be at the very least, national news.I can just see the headlines now.
"Police, the PF and a post mortem would follow. We would have an accurate cause of death, and there would have been a very public funeral.
"Was Alexander Harvey buried privately, was his mother in attendance?
Prayers
"What was life like in St Ninian's orphanage in 1960? Was it a very closed off type of facility or did the kids integrate into the community,attending the Chapel Royal for Sunday prayers for example?
"I suppose, I am intrigued as to why nobody seems to remember anything about Alexander's death"
*Do you know anything about the story of Alexander Harvey? If so, please get in touch with The Courier.