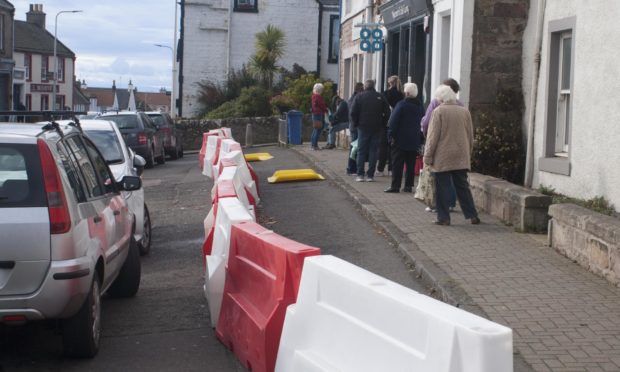 Communities are to be rigorously consulted over any future action to aid social distancing in Fife's town centres following uproar in the north east of the region.
Hundreds of people objected to measures imposed by Fife Council in St Andrews and Crail, amid fears businesses faced devastation after car parking was removed.
Almost 60 St Andrews businesses warn of devastation as parking is removed from town centre
Some of the barriers placed along several streets under the Scottish Government's Spaces for People scheme were eventually removed by the council following campaigns led by locals.
The local authority has agreed communities will be properly consulted on any proposed measures under the scheme, before they are introduced, in a bid to avoid further upset.
The council received £2.4 million to pay for temporary action aimed at protecting the health of pedestrians and cyclists during the Covid-19 pandemic.
In Crail and St Andrews, barriers were erected to effectively widen pavements and give people more room to pass each other safely but it resulted in the loss of dozens of parking spaces.
Businesses said they had been given no say in the matter.
Angry Fife villagers take matters into own hands amid call to scrap 'ludicrous' parking barriers
Fife Council's lead consultant Allan McLean said the measures had been an emergency response to the pandemic and had been well-meaning.
"We would normally follow extensive consultation protocols but because of the lockdown restrictions that was difficult to deal with.
"Face-to-face contact was not possible. It wasn't ideal but we did the best we could."
He said the reaction to Spaces for People had been mixed, with some communities expressing enthusiasm.
"This is a well-meaning project concerned with public health. We are now in a better position than we were when we first started regarding consultation protocols."
Members of the north east area committee agreed any future consultation on the scheme should be in accordance with the national standards for community engagement.
Independent East Neuk councillor Linda Holt said it had been a great initiative that had run into problems due to the lack of consultation.
"If these procedures had been followed we would have had approval and buy-in from communities. It's absolutely essential that happens in the future."
St Andrews Conservative councillor Dominic Nolan said he was glad the importance of consultation had been recognised.
"Only by giving plenty of opportunity for all concerned parties to respond to proposals can we avoid the situation of being seen to react to whatever latest representation has been received," he said.
"By gathering all views in advance, we can limit the trial and error nature of these proposals as much as possible."