Michael Alexander follows in the footsteps of some of St Andrews' most famous golfing sons as 'Tommy's Honour' gets its world premiere at the Edinburgh International Film Festival.
You don't have to stray far from the world famous golf links in St Andrews to find reminders that this is the Home of Golf.
But perhaps one of the most remarkable settings is the cemetery within the ruins of St Andrews Cathedral which has the graves of more former Open champions and their families than any other place in the world.
From the graves of Bob Martin to Hugh Kirkaldy, and Sandy Herd to the sadly unmarked resting place of Jamie Anderson, it is a unique site filled with the graves of noted historic town figures and unprecedented numbers of local golfing legends from the 19th and early 20th centuries.
The one that stands out, however, is the striking memorial for four times Open champion 'Young' Tommy Morris, which is likely to see an influx of tourists following the world premiere of 'Tommy's Honour' at the 70th Edinburgh International Film Festival on Wednesday June 15.
The drama, filmed in St Andrews and elsewhere in Scotland, is based on the true story of golfing pioneer and legend 'Old' Tom Morris and his relationship with his son Tommy, who died in St Andrews aged just 24 in 1875.
Acclaimed and award-winning actor Peter Mullan (Sunshine on Leith) and Olivier-winning Jack Lowden (War & Peace) take on the roles of father and son. They lead an ensemble cast including Ophelia Lovibond (W1A), Peter Ferdinando (Hyena) and Sam Neill (Jurassic Park) in the role of Alexander Boothby.
One man who is very excited about the premiere is award-winning St Andrews-based golf historian and author Roger McStravick.
The Northern Ireland-born author, who last year won the United States Golf Association's Herbert Warren Wind Book Award for his book 'St Andrews in the Footsteps of Old Tom Morris', was inspired to write by St Andrews historian David Joy's portrayal of 'Old Tom', and also after reading Kevin Cook's book 'Tommy's Honour: The Story of Old Tom Morris and Young Tom Morris, Golf's Founding Father and Son'.
Meeting up with The Courier at St Andrews Golf Club overlooking the Old Course which 'Old Tom' helped redesign, Roger points out artefacts in a display case including Young Tommy's pocket watch, score card and a number of Morris balls and clubs.
It's whilst walking up North Street towards the cathedral grounds, however, that the remarkable life story and context of Tom and his son is brought to life.
We pass 1 Albany Place where, in September 1875, Young Tommy raced home from a golf match in North Berwick only to learn that both his wife and new-born baby were dead. Broken-hearted Tommy himself died just three months later on Christmas Day aged just 24. Old Tom outlived all his children dying in 1908.
Standing outside 37 North Street where Old Tom – himself a four times Open Championship winner – lived as a teenager, Roger points two doors up to where Daw Anderson, the father of three-times Open champion Jamie lived. Across the road is the cottage where three times Open champion Jock Hutchison resided. He also won two PGA and one senior PGA championship. And on the corner at South Castle Street lived James Robb who won the Amateur Championship.
"In this whole area you had the dwellings of something like 12 Open champions, several US major winners and an Amateur Championship winner, " explains Roger.
"What was most remarkable however, is that these were all local guys from what was then the poorest part of town at the east end of North Street. Golf at that time in Scotland was free. It was an incredible time. There's good reason why St Andrews is the Home of Golf!"
Old Tom went on to become the greatest golfer in the world. In 1862, for example, he won the Open Championship by 13 shots and that still hasn't been matched. Young Tommy is still the youngest champion of the Open as well – his name is first on the famous Claret Jug that is still presented today.
Old Tom went on to help design courses including Muirfield, Royal County Down, Crail, and the front nine of the Old Course at St Andrews.
It's with "excitement and trepidation" that Roger awaits director Jason Connery's interpretation in the film.
"The characters of Tom and Tommy have been really well documented, "  says Roger. "Tom was seen as a consummate diplomat. He was always a kindly nature. He could walk freely between the artisans and the gentleman golfers. I think that was part of his appeal. The caddies saw him as one of their own and the gentlemen golfers saw him as a brilliant golfer and architect and an expert on the game.
"There's lots of poetry on Tommy as well. The poet George Bruce describes Tommy's personality as being like his dad – a chip off the old block. He was a megastar. Old Tom had been getting all the headlines, but Tommy has taken golf to another level. He's the first professional to get appearance fees. That story is really well documented. It's such a lovely piece of theatre. I can't wait to see how that comes across on the big screen."
Roger, 44,  who shares the same birthday as Old Tom albeit 150 years apart – recognises that golf was a different game then. But he reckons the Morris' and their contemporaries would stand "shoulder to shoulder" with today's top golfers.
He adds: "I genuinely think they were phenomenally talented, and they were phenomenally talented at something we are losing in this generation – the ability to look at a green and pick out the right club. Now we are all into GPS and stuff. They were much more in tune with the links. Now we are scientists and mathematicians. These guys were just naturally talented golfers.
"They played on tougher courses, they played with clubs that were just so inferior but they still were able to shoot ridiculous scores.
"But I think they would love the game now as well. Because when you are a golfer it's just about getting out there and hitting the ball. It's as basic as that. What would Tom Morris make of the Old Course today? He'd be so proud. He'd be bursting with pride. Not only the condition of the links, but you look across there now and there are people queuing from 3am to play on the course that affectively the whole front nine is him. I think he'd be immensely proud."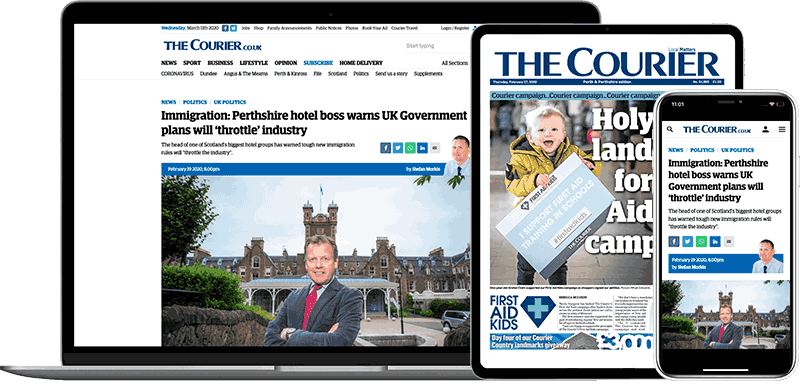 Help support quality local journalism … become a digital subscriber to The Courier
For as little as £5.99 a month you can access all of our content, including Premium articles.
Subscribe