Stray dogs saved from the streets of Bulgaria have travelled almost 3,000 miles to be welcomed into loving new homes across Angus and Fife – thanks to the dedication of one local woman.
Anne Marie Grant of Methil saved puppies Lisl and Rosie from death while holidaying in the Balkan nation in September, going out of her way to pay for them to be housed in kennels, vaccinated, micro-chipped and finally flown to the UK.
After making contact with Bulgarian charity Stray Angels, based in the country's capital of Sofia, she also stepped in to help find homes for a further five dogs facing homelessness as a result of their "hostel" being demolished.
The Fifer's appeal was so successful, seven of the charity's dogs, including Lisl and Rosie, landed on UK soil on Monday. Three were welcomed to homes across Courier Country this week.
Among the arrivals was Eddie, a mixed-breed dog found aged between 10 and 15 days clinging to his dead mother in Bulgaria.
He arrived at the Leven home of Alice and Andy Hepburn on Tuesday evening to a heartwarming reception from the couple and their six children Lee, Heather, Amy, Mark, Caitlin and Gemma.
Clerical worker Mrs Hepburn said: "I saw the article in The Courier. We have been thinking about having a dog. We looked into how they were with cats and children and Eddie fitted the bill.
"My last two cats were rescue cats. They (the kids) love animals to bits. It was horrible what happened to Eddie's mum. Taking him in, it does make you feel better."
Mr Hepburn, a business management student at Abertay University, added: "We heard his story, he was found between 10 to 15 days old, his mum was dead, her body heat had kept him alive. Him and his two sisters were found. It will be a big change for him here."
Lisl, who Mrs Grant found "thin and starving" in a roadside layby in Bulgaria, has found a loving home with retired chef Dave Chalmers in Arbroath.
The 64-year-old said he was pleased to welcome the pooch into his life after losing his partner and his pet dog last year.
Mr Chalmers added: "I read about it in The Courier. I recently lost my dog and I lost my partner. I went to the Dogs Trust in Uddingston first, but with a lot of the dogs down there you have to take two.
"I just thought, after reading the story, 'well, here's the chance'. It's a rescue dog, I can give it a better life."
Another former stray, Goshko, who is missing his back limbs, was welcomed into the home of Nicola Duthie in Dunfermline on Tuesday evening, much to the delight of her four-year-old son Alexander McLeod.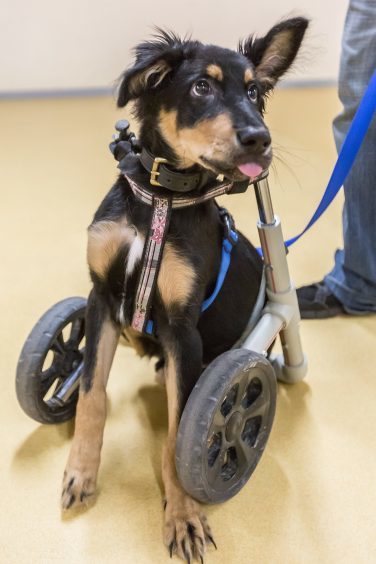 'We have nowhere else to put them': Fifer fighting to rescue five dogs from homelessness
Mrs Grant, 67, made a solo journey to Manchester to pick up the animals following their arrival in the UK this week, dropping them off at their new homes personally.
She added: "All of them just seem to have married in with their families. They just seem to have matched perfectly, which is very, very emotionally good for me. I'm so happy they'd done it and I'm glad these people came forward.
"In total I've re-homed 15 dogs, all since I went there on March 1 this year. And I could rescue thousands more because the problem is very, very big in Bulgaria.
"My heart was bursting last night just seeing the families welcome the dogs into their homes. They've all got brilliant families.
"It's been very difficult, it hasn't been an easy journey, but a very rewarding one and I would say to anybody if they take a rescue dog it just makes the whole world worthwhile."
Despite arriving in the UK, Rosie is yet to find a permanent home and Mrs Grant is keen to find a loving family for her.
If you are interested please phone 01592 713 196 or e-mail: grantannemarie411@gmail.com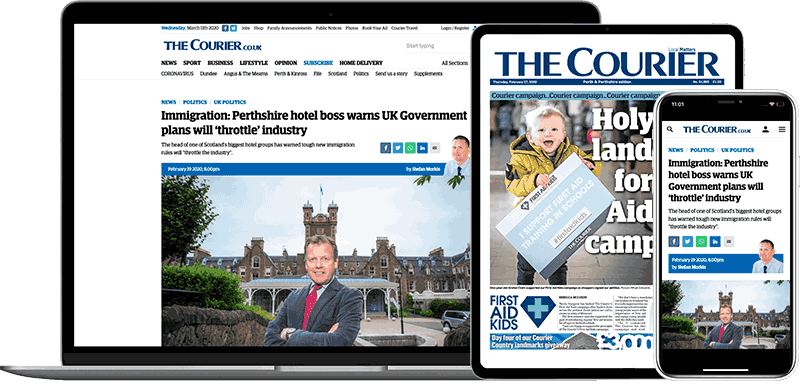 Help support quality local journalism … become a digital subscriber to The Courier
For as little as £5.99 a month you can access all of our content, including Premium articles.
Subscribe