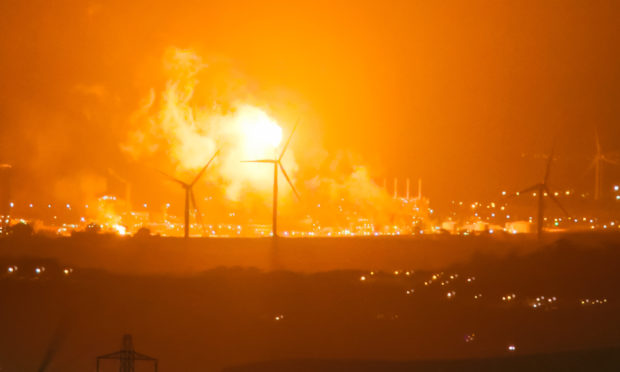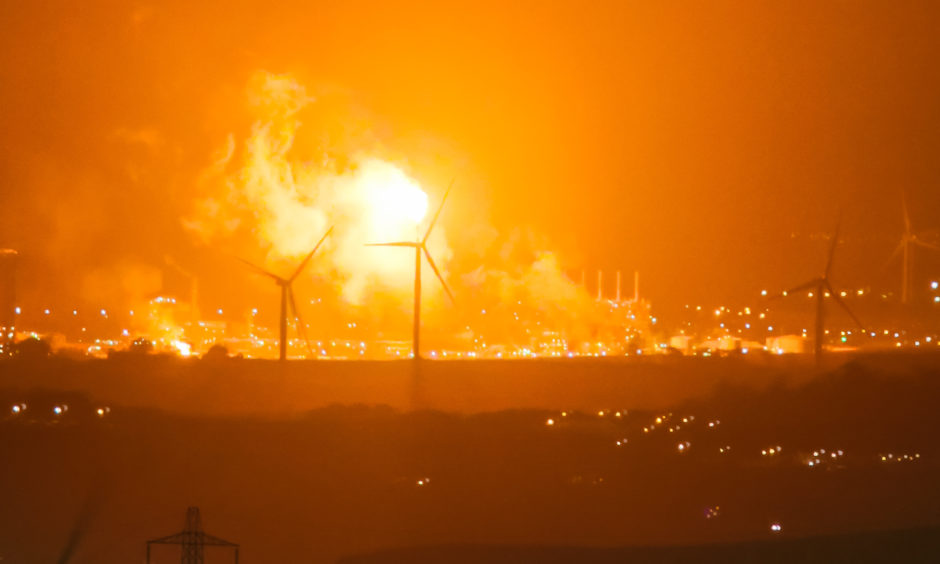 Operators of a Fife chemical plant have apologised to local communities after yet more flaring at the site.
ExxonMobil Chemical Limited has said sorry to residents for any concern or inconvenience caused by the latest flaring episode at the Fife Ethylene Plant at Mossmorran near Cowdenbeath.
The giant orange flame could be seen for miles around after the plant suffered what was described as an "operating upset" on its main compressor.
Locals have long complained about the disturbance caused by flaring at the plant, with people living in neighbouring towns and villages angered by noise, vibration and light pollution during such incidents.
In an update at 2.30pm on Friday, ExxonMobil said the safety mechanism for the main compressor on-site activated at around 6am, shutting down the compressor as a precaution.
This compressor takes the gases from the furnaces progressing them to the next stage of the process.
With this compressor shut down, it meant that gas on-site was safely routed to the elevated flare.
Sonia Bingham, plant manager at the Fife Ethylene Plant, said: "Work to resolve the situation is proceeding well and we anticipate the process of re-starting the plant will commence in the next few hours.
"The re-start is likely to take between 24 to 36 hours, during which time flaring will be necessary to ensure the safety of the plant. We are working in full consultation with SEPA and are doing all we can to reduce the rates of flaring during this period which helps minimise the impact on the local community.
"I would like to apologise to the local communities for the unplanned flaring occurring at the Fife Ethylene Plant.
"I would also like to reassure the communities that we are doing all we can to minimise flaring and any disturbance or inconvenience in the local area.
"Safety and environmental protection are our highest priorities as we work to resolve this issue and return FEP to its normal operations as soon as possible.
"While we recognise that flaring can cause concern in the local community, it is a vital safety system and there is no danger to local communities or our own workforce."
Lesley Laird, Kirkcaldy and Cowdenbeath MP, said communities are "sick to the back teeth" with flaring and deserve to know why it is happening with such regularity.
"It's an irony not lost on me that anxious residents feel left in the dark when light pollution comes flooding into their homes at night," she said.
"As a result, I'll be keeping in touch with the plant and have asked them to provide interim updates as they work towards a 48 hour target. If that's not achieved, I've asked that they tell local communities sooner rather than later."
Mrs Laird hosted a meeting in January to discuss concerns with interested parties, and a follow-up meeting is due to be held on April 20.
She added: "The public deserves improved and more up-to-date information when flaring occurs.
"Reassurance is also needed regarding health concerns and, also importantly, whether any steps can be taken to minimise flaring in the future."
Concerns about the impact of flaring on communities were heightened last year after a number of prolonged flaring incidents between June and October, while Green Mid Scotland and Fife MSP Mark Ruskell called for greater transparency after figures from the Scottish Environmental Protection Agency showed the number of flaring incidents at the plant had risen from 39 in 2008 to 181 in 2016.
The volume of gas flared in 2016 was also 10,000 tonnes more than it was eight years ago.
Mr Ruskell has reiterated calls for a health impact study on the effect on local communities.
"Once more residents living in the shadow of Mossmorran are forced to endure noise, light and vibration through the night, and once more Exxon Mobil throw the obligatory apology their way," he said.
"Many of my constituents are understandably fed up with ever more regular flaring. In parliament last week I called for a health study into the impacts of the combined air, light and noise pollution on those living around the plant, it's vital this now takes place.
"In the meantime, SEPA must use all the powers at its disposal to limit the disruption this billion dollar US business is causing to Fife communities.
"I expect to meet with the Minister for Public Health in the coming weeks and I will be highlighting this issue once more."
Anyone with any concerns or who wants further information can contact ExxonMobil's public affairs department on 01383 737000.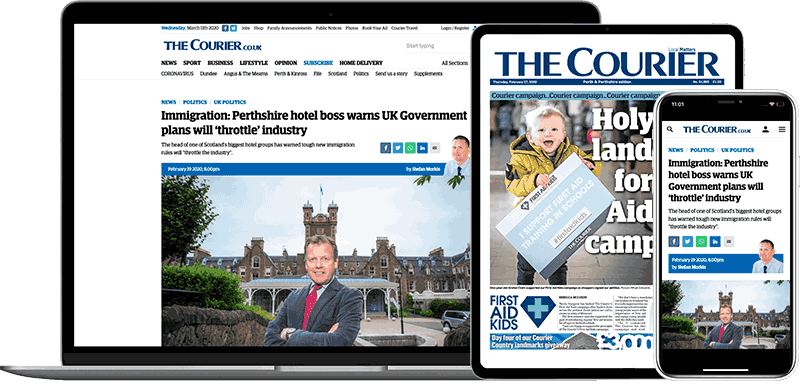 Help support quality local journalism … become a digital subscriber to The Courier
For as little as £5.99 a month you can access all of our content, including Premium articles.
Subscribe