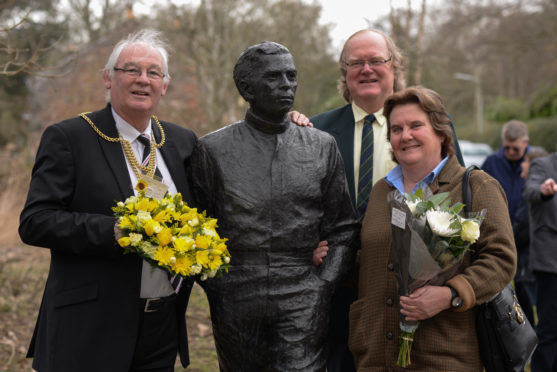 A series of events were staged over the weekend to mark the 50th anniversary of double Formula One champion Jim Clark's untimely death.
The Fife-born motorsport legend was killed in a crash in Germany on April 7 1968, but his incredible achievements and legacy live on.
The anniversary programme included a commemorative church service in Chirnside, a ground breaking ceremony for a new museum in Duns in his honour, an anniversary dinner in Lauder and a special exhibition in Chirnside Hall for anyone wishing to showcase their own Jim Clark memorabilia.
Fife was also at the forefront of activities to mark the milestone, with Knockhill playing host to the Jim Clark Memorial Meeting.
Provost Jim Leishman also gathered at the Jim Clark statue in Kilmany on Saturday to lay flowers and pay respects.
Local councillor Andy Heer described Saturday's gathering as a simple, informal ceremony of two or three dozen people — "a small community coming together to remember one of their own".
He added: "It was a privilege to lead the ceremony at the Jim Clark statue in Kilmany and a privilege to meet some of his contemporaries who shared such precious memories and intimate details that brought the great man to life.
"One man remembered the Kilmany school teacher washing Jim's mouth out with soap after he used bad language.
"Another remembered having to take the wee boy by the hand to the toilet.
"Harry Lang brought along a wonderful photograph of Harry sitting on his tricycle and Jim in his first ever car – a pedal car!
"Jim Clark had an extraordinary career, taking part in 72 Formula One races and winning 25 of them.
"He was World Champion twice and outside Formula One he won the British Touring Car Championship, the Indianapolis 500 and came second twice. He also drove in the Le Mans 24 Hours race coming second once and third twice. These are just some of the highlights of an amazing career.
"Throughout he remained a modest unassuming man who many said was as comfortable with a shepherd's crook in his hand as a steering wheel."
Additional anniversary events are being planned at the Hockenheim Jim Clark Revival from April 20 to 22, The Argyll Festival of Performance on June 2 and 3 and at The Goodwood Festival of Speed from July 12 to 15.
Doug Niven, cousin of Jim Clark and trustee for The Jim Clark Trust, said: It is quite incredible how his memory remains so strong and emotional even 50 years on.
"We feel honoured that so many people have shown interest and we want this weekend to be both a commemoration and celebration to inspire future generations."