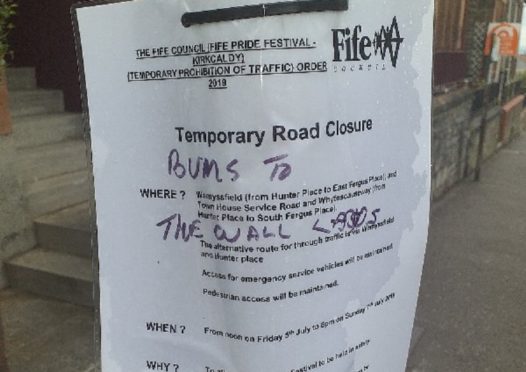 Another homophobic incident related to the weekend's Fife Pride festival has been branded "hateful and disgusting".
The celebration of diversity and the LGBT community on Saturday attracted thousands of people to Kirkcaldy for a parade and event in the town square – eclipsing the success of previous years.
But just days after a taxi company was forced to apologise when one of its drivers asked revellers if they were going to the "p***s party", a further alleged hate crime has come to light.
One Kirkcaldy man was horrified to discover a public traffic regulation order posted on a lamppost in Carlyle Road to highlight road closures for Saturday's parade had been daubed with an offensive remark.
Marchers mustered in Carlyle Road shortly before noon prior to the parade through the town centre, but it is not known when the vandalism took place.
The man, who did not want to be named said: "As a gay man myself I find this hateful and disgusting.
"I have removed this from the lamppost and kept hold of it in case Fife police want it."
The latest hate crime comes just a few weeks after rainbow flags, symbolising the Pride movement, were deliberately torn down and destroyed in Kirkcaldy's Olympia Arcade.
VIDEO: Pair filmed ripping down Pride flags, later found burned, at Kirkcaldy shopping arcade
Organisers of Fife Pride 2019 said they believed the incidents had been isolated cases and have branded the event a great success.
IN PICTURES: Thousands flock to Kirkcaldy for Fife Pride 2019
Pat Greenhough, from the Fife Centre for Equalties, said events like Fife Pride gave people the opportunity to show a real commitment from the community to tackle discrimination and show their support for the LGBTI community in Fife.
"The response for the Pride movement in Kirkcaldy has been overwhelming and it shows how important it is for the LGBTI community to be visible, valued and respected for who they are," she said.
"This year is a special year and marks Stonewall50, the uprising that sparked a global push for LGBT rights.
"I think the thing we must never forget is Pride is a positive stance against discrimination and violence towards the LGBTI community and we need to celebrate diversity and be proud of who we are."