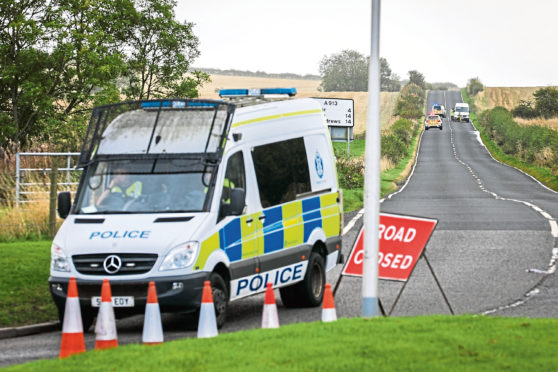 Police were working last night to establish the identity of a cyclist seriously hurt in a collision with a van north of Cupar.
The unknown man's bicycle and the Volkswagen Crafter collided on the A913 between Cupar and the Parbroath crossroads just before 6.45am yesterday.
He was taken by ambulance to Ninewells Hospital in Dundee.
It is thought the man, reckoned to be between 40 and 50 years old, may have links to the Perth area.
Police issued an appeal for help from the public to identify him and released a photograph of his white mountain bike, shown below, in the hope someone would recognise it.
The road was closed for several hours between the A92 and Balgarvie Road, Cupar, while investigations were conducted at the scene just east of the Parbroath crossroads.
Sergeant Nicola Young, of Fife road policing unit, said: "The identity of the cyclist remains unknown and we are appealing to the public to help us identify him.
"He is a white man, around 6ft tall with brown, balding hair. He is possibly aged between 40 and 50 years old and is of slim to medium build.
"He may have links to the Perth area and we have released an image of the bicycle in the hope someone may recognise it."
The crash was the third serious collision involving cyclists in Fife in as many months.
A 66-year-old father-of-five died after colliding with a van on the B937 near Giffordtown on August 25.
Cyclist dies following head-on collision with van on country road in Fife
In July a 43-year-old cyclist died after an alleged hit-and-run on the A917 Elie to St Monans road.
A Dundee pensioner has appeared in court in connection with that incident.
Anyone with information on yesterday's crash is asked to contact police by phoning 101 and quoting incident number 462 of September 26.