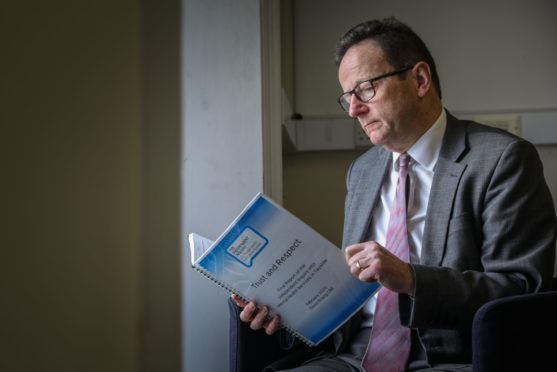 A Dundee-based mental health charity for young people has called for better links between Tayside universities and the NHS, to help students access crisis support.
Dundee University, Abertay and the University of the Highlands and Islands all offer support services to students but cannot refer them to crisis teams for emergency mental treatment.
Instead, they must be referred by a GP and many students are not registered with a doctor in the area in which they study.
This week's major report from the Tayside mental health inquiry recommended university staff be given the ability to refer students to a Crisis Resolution and Home Treatment Team (CRHTT) "as a matter of urgency".
This has been backed by Brook Marshall, chief executive officer of Feeling Strong, a Dundee-based charity offering mental health support to young people.
"It would be hugely beneficial if university staff could directly refer students to crisis support and I'm glad the report has recognised this," he said.
"It cuts out a lot of unnecessary steps and gets them intervention quickly and quickness is key.
"Many students are not registered with a GP where they are studying so it can be a very long process for them to get registered and see a doctor when immediate support is what they need.
"Even those who are registered, crisis support by its very nature is supposed to be timely and waiting a week or two for a GP appointment is not timely.
"The staff know the students so they know what their issues are and when they need to be escalated so it is very difficult that they cannot refer them directly and when they eventually are referred they are rejected."
Mr Marshall criticised NHS Tayside for not acting more quickly, although he welcomed the findings of the report and hopes the will be implemented.
"The report has exposed the issues we have known about for years.
"There is nothing in this report which will come as a surprise either to the community or the NHS.
"They have been aware of these problems for years but have chosen to ignore them.
"We are cautiously optimistic that they will now be addressed. We very much believe everything in the report is doable but whether they actually do it is different."
The report included 51 recommendations to improve mental health services across Tayside.
It specifically addressed universities in one section, saying: "The ability for university mental health services to respond quickly to a crisis is critical.
"However, it is not currently possible for the university health services in Dundee or Perth to refer directly to CRHTT – despite employing mental health nurses who are
able to assess students appropriately.
"Other universities in Scotland do have referral pathways in place directly to crisis services. Given the size of population of the student communities in Dundee and Perth and the well-known risk of suicides in young men under the age of 30, a referral pathway into CRHTT for the universities' mental health services should be considered as a matter of urgency."
A Perth College UHI spokesperson said: "We know that being a student can be overwhelming and stressful at times. We offer a range of mental health services including drop-in sessions, counselling, wellbeing support and advice, self-help workshops and information. Our Wellbeing and Support Officers support students with adjustments to help with their studies.
"'We have recently received significant additional funding from the Scottish Funding Council to enhance our already strong counselling and wellbeing service and will continue to work with the NHS and other partner organisations to help ensure that mental health support needs amongst our students are met.
"Working more closely with the NHS to provide greater support to our students would be welcomed, and we will actively help with any opportunities to improve mental health services in our region."
An NHS Tayside spokesperson said: "The extensive Independent Inquiry report relates to a range of mental health services across Tayside and contains a number of recommendations.
"NHS Tayside board, Angus, Dundee and Perth & Kinross Integration Joint Boards, and our partners will consider the report and develop a comprehensive action plan in response to the recommendations."