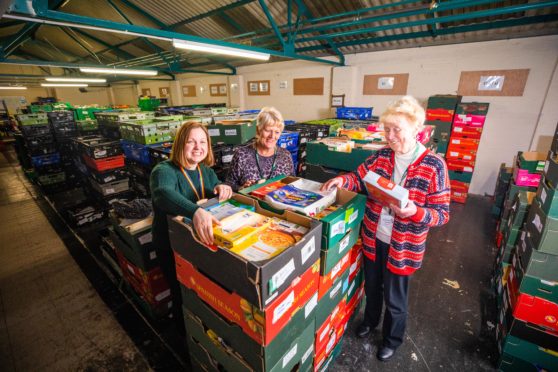 The number of Perth and Blairgowrie children who had to use foodbanks in 2019 increased by a third on the previous year.
Last year there were 1870 children in the areas fed by foodbanks, compared with 1422 in 2018 – an increase of 32%.
Overall, the total number of people who had to use the two centres increased by 17%, rising from 5023 people in 2019 to 5895 in 2019.
A spokesperson for Perth Foodbank spoke of the impact of the rise in demand of the foodbanks' services.
They said: "The demand for food now outweighs our supply and we spent over £3370 on food in 2019 when we ran short of some essential items.
"Our busiest time is the last couple of months of the year when we received 42% of our total annual food donations."
The amount of food donated to the centres also increased over the same time period, with 58.3 tonnes received last year.
This is an increase of 15% from the 50.7 tonnes donated to the centres the previous year.
The foodbanks have found new means of distributing necessities to those in need.
However, there are still concerns many people who require assistance are still not receiving it.
The spokesperson added: "As well as parcels, we also distribute food in other ways to reach people reluctant or unable to access us.
"We support local groups and schools feeding people by other means and at different times from our own.
"Regular recipients include the Gospel Hall soup kitchens, Letham Primary School and the Greyfriars Hostel.
"We remain concerned about people who need food help but cannot access us for different reasons, [including] living in a rural or remote area, the cost of transport to reach us, our restrictive opening times, or being housebound or disabled."
SNP MP for Perth and North Perthshire, Pete Wishart described the increase in the number of people relying on foodbanks as a "disgrace".
He said: "It is an absolute disgrace that in one of the richest countries in the world people still have to rely on handouts to feed their families.
"The foodbanks in Perth and Blairgowrie do a fantastic job in difficult circumstances and have proven to be a lifeline for so many families.
"A 17% increase in a year shows just how valuable they have become."
"It's embarrassing but the staff are lovely"
A Perth man has spoken out about his own foodbank use following Perth foodbank having revealed a significant increase in its users last year.
The man, who wished to remain anonymous, said he and his partner have had to use Perth foodbank around a dozen times "when money has been difficult".
He also attends the CATH Day Centre, a drop-in service which supports people who are either homeless or at risk of homelessness.
He spoke of the "embarrassment" he felt.
He said: "If there is anyone outside we don't go in and we'll go in when they've gone again.
"It's embarrassing because people must think I am poor or a tramp. The staff there are lovely and they offer you a cup of tea but I just want to leave again.
"We are given things like cereal, long life milk, beans, sweets, tinned veg and pasta or rice. The things they put in is to fill you up."
He says the government is at fault for lack of provision for those most in need, adding: "They up your benefits in one hand and take it from the other."
He said more needs to be done to reduce the number of people relying on foodbanks and there should also be greater provision for those whose first language is not English.
He said: "They need more international people to help at the foodbanks.
"They could even use an interpreter."
He also urged those in a position to help to donate to foodbanks, adding there is a drop off point for donations at the A K Bell Library.
He said: "It doesn't matter if it is a pack of biscuits or a 12 pence tin of beans, just help."
Across the city in Letham, community hub Letham4All has opened a community fridge in efforts to help tackle food poverty in the area.
On the increase of users at Perth and Blairgowrie foodbanks, Letham4All Trustee John Rebbeck said: "It is both regrettable and concerning to be made aware of further increases in the need for and the use of Perth foodbanks, particularly as many of the people in need are hard working families.
"In-work poverty is the shame of modern Britain."