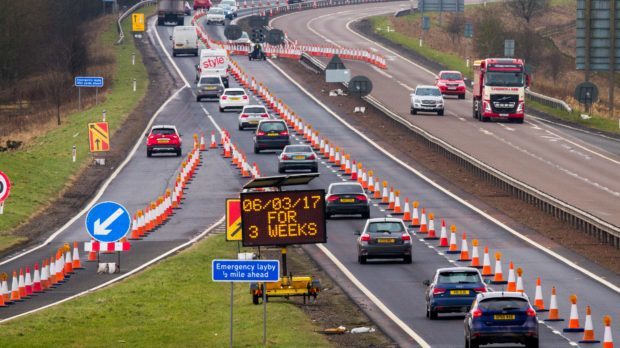 More than 400 homes and businesses were  plunged into darkness across Kinross-shire as a vehicle veered off the M90 and crashed into a burn on the outskirts of Milnathort.
Witnesses described seeing a "big flash of light in the sky", coming from the motorway, at around 7.55pm on Tuesday night as 405 properties, including a supermarket and Loch Leven Community Campus, momentarily lost electricity.
The power outage occurred at the same time police were called to a one-vehicle collision on the M90 close to the slip road when a car left the road before crashing down an embankment and into a burn.
The occupants of the car then left the scene.
SSEN confirmed that the power outage could have been caused by the crash, though they had not been notified of the collision.
A spokesperson for the company said: "SSEN was alerted to a brief power outage (on Tuesday) night in Milnathort, this took place at 7.53pm and lasted for about a minute, affecting 405 customers in total.
"The outage was caused by an auto reclose of one of our safety breakers, protecting our network should any potential risks be detected to our infrastructure.
"Power was restored to all customers by 7.54pm and we'd like to sincerely apologise to our customers for any inconvenience caused."
The spokesperson added: "It (the crash) certainly could have caused it but it's not something we can confirm as we're not aware of it.
"If there's any potential damage to infrastructure then that (the auto reclose) kicks in. If there's any damage to our poles or our lines then our network is protected."
Power outages were reported across a large area in the region including Kinross, Milnathort and Crook of Devon with many speculating about the cause of the large beam of light in the sky.
Rachael Eglington said: "My son was at the campus between 7-8pm and said all the power went after a loud bang and then a bright blue beam appeared.
"Other son said Sainsbury's went in darkness too."
Carla Bunce said: "I saw the blue beam just before Crook motorway junction heading to Kinross, very weird filled the whole sky."
Motorists also claimed they were forced to avoid two men in dark clothing walking along the motorway shortly after the crash.
Police Scotland confirmed that the occupants of the car were finally traced in the Stirling Road area of Milnathort.
A spokesperson for the force said: "Police Scotland attended a one vehicle road traffic incident on the M90 near Milnathort which was reported at 7.55pm on Tuesday March 3.
"The driver and passenger were traced.  The driver suffered minor injuries."