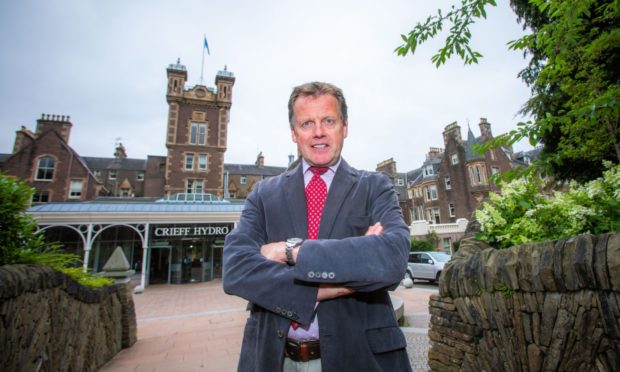 Two landmark Perthshire hotels closed their doors on Monday with no certainty of when they will be able to reopen again.
Bosses at Gleneagles and Crieff Hydro took the decisions to shut down completely to guests following updated advice from the government warning against non-essential travel and telling pubs and restaurants to close.
However both hotels said they were committed to providing for their hundreds of on-site staff.
Stephen Leckie, owner and chairman of the Crieff Hydro chain which operates seven hotels across Scotland, said his business was "facing the worst day since 1939"  – when it was forced to shut after the outbreak of the Second World War.
The hotelier said he feared his business would lose hundreds of thousands of pounds as he expected at least a three month closure but he believed it was the correct decision to shut down.
Mr Leckie said: "We don't want to take risks with our staff or our guests.
"The main thing is for us to be socially responsible and accept the financial hazards that brings.
"This is about families, about individuals and about the business. We must not jeopardise any one for the other."
Mr Leckie, who is also the Lord-Lieutenant for Perth and Kinross, said around 150 staff who were unable to return home would be staying on in their lodgings at Crieff Hydro on full board.
And he said social isolation was about preserving lives and saving the NHS.
"This puts us in a more serious situation than any of us could ever have imagined," he added.
"What we need now is leadership and a plan."
Sharan Pasricha, founder and CEO Ennismore which owns Gleneagles, said it was with a "heavy heart" that the luxury hotel near Auchterarder would be shutting until further notice.
Mr Pasricha said: "Our team and guests' health and wellbeing is our top priority and, while we're deeply saddened by this development, we believe it is a vital measure to protect their safety.
"We are supporting our team, in particular all our staff members who live in on-site accommodation and far from home, through this unexpected and difficult period.
"As the current public health situation brings uncertainty for everyone, including the whole Gleneagles team, we look forward to brighter days ahead when we will open our doors and come together again as a team, stronger than ever before."