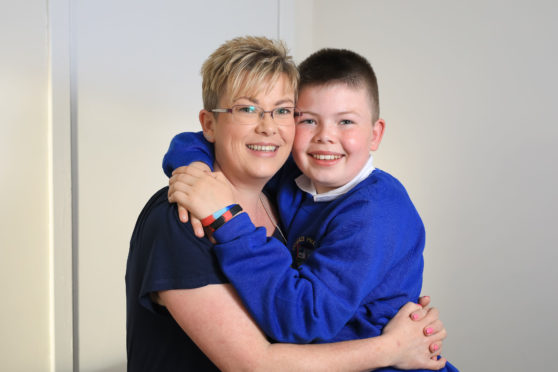 A Perthshire woman has spoken of the pride she feels for her 11-year-old son following his work to educate his peers on what to do if someone has a stroke.
Debbie Matthew, 44, from Comrie had a stroke four years ago and her son Finlay has since been proactive in raising awareness of the condition.
Debbie has also spoken of the importance of seeking help if someone is having a stroke, even amid the coronavirus pandemic.
Debbie said: "My son, Finlay, got such a fright seeing me after my stroke that he decided spread the FAST message to local school children.
"Finlay feels that it's especially important for children to learn the message so that that they know what to do if they find themselves alone with a parent or grandparent who might be experiencing a stroke."
Prior to the pandemic, Finlay had visited local schools to share his family's experience and inform other pupils what to do if one should happen. He is continuing to share this message.
Debbie added: "[His work] makes me very proud.
"It is great he is able to tell other children what to look for."
Debbie has herself highlighted the importance of seeking help in the event of a stroke.
She said: "I thought an older person would have a stroke, not me. I was quite young when I had one."
She is also concerned the coronavirus pandemic is causing people to not contact the emergency services if they suspect they are having a stroke.
She is urging people to phone an ambulance straight away if they do.
She said: "If my husband hadn't called 999 so quickly, I can't bear to think about what position I would find myself in today.
"Hearing that people might not be seeking emergency help is terrifying. it's more important now than ever to make sure people know to Think FAST and call 999 if you think you're having a stroke."
Meanwhile Scottish Conservative MSP for Mid Scotland and Fife, Alexander Stewart echoed Debbie's concerns.
He said: "I am a great supporter of the Charity, Chest Heart and Stroke Scotland and we are concerned that people are putting off going to hospital because of the virus.
These symptoms aren't something for deliberation. If you see these signs; act FAST."
Think FAST
Symptoms of stroke
The FAST test helps to spot the three most common symptoms of stroke.
Signs of stroke – FAST
Face: Can the person smile? Has their face fallen on one side?
Arms: Can the person raise both arms and keep them there?
Speech problems: Can the person speak clearly and understand what you say? Is their speech slurred?
Time: If you see any of these three signs, it's time to call 999.
There are other signs that you should always take seriously. These include:
Sudden weakness or numbness on one side of the body, including legs, hands or feet.
Difficulty finding words or speaking in clear sentences.
Sudden blurred vision or loss of sight in one or both eyes.
Sudden memory loss or confusion, and dizziness or a sudden fall.
A sudden, severe headache.
If you spot any of these signs of a stroke, don't wait. Call 999 straight away.