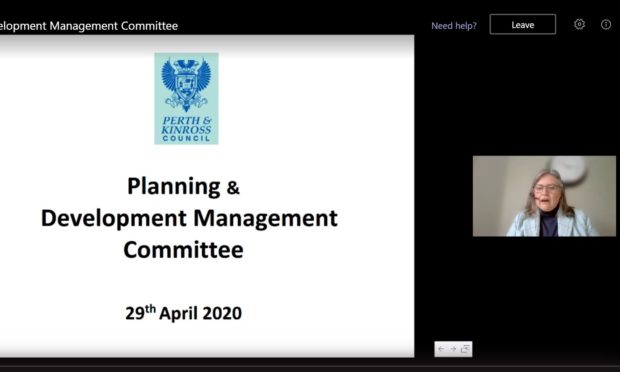 Hundreds of new homes were approved for Crieff as Perth and Kinross Council held its first ever digital committee meeting on Wednesday.
The online session, the first meeting in more than a month, opened with a tribute to long serving SNP councillor Bob Band, who died earlier this month.
The virtual gathering of the development management committee, hosted on Microsoft Teams, was live streamed to the public on the council's website.
The business ran without a hitch, with no repeat of the disruption to the Angus Council meeting on Tuesday which was hacked by pranksters.
At the top of the agenda was an application from Ogilvie Homes to construct 246 homes at the western edge of its Broich Road site in Crieff.
The proposals, which will be built over four phases, were heralded by councillors and passed with unanimous support.
Affordable housing will be included throughout each phase. The plans also include green space and a play park. Construction work will begin at the western end of the site near Wiltshire Farm Foods and D and D Dairies headquarters.
Councillors were told the homes will be screened from the neighbouring caravan site by back gardens and a row of trees.
Up to 639 properties could be built in total on the south side of the road.
Members noted that the area had been the focus of regeneration in recent years, including the recent construction of an Aldi supermarket and the upgrade of Broich Road's junction with King Street.
At least one pedestrian crossing will be installed on Broich Road to help cope with an expected rise in traffic. Council officers said more might be needed in future.
Some fears were raised over NHS Tayside's decision not to respond to questions about healthcare provision, but the committee agreed that the lack of response from the health board suggested it had no problem with the proposals.
Convener and Strathearn Conservative councillor Roz McCall said: "I know that this site has been discussed at great length. The developments along Broich Road have made a massive difference to Crieff.
"Aldi has revitalised part of that area, the junction at King Street is a fantastic example of the regeneration work in Crieff and this is the next step."
Councillors also approved plans for sandstone quarrying across the A9 from Aberuthven and extended hours for carriageway dualling workers to access a borrow pit north of Luncarty.