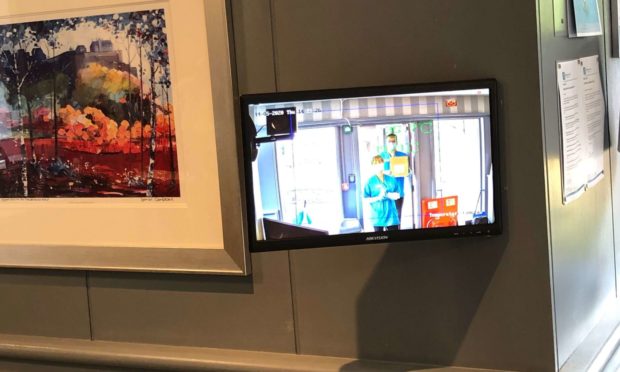 Thermal imaging cameras are being installed at care homes throughout Scotland in an effort to protect staff and residents from coronavirus.
The technology is being rolled out by the Perth-based Balhousie Care Group to each of its 25 homes.
The cameras can automatically detect and measure the outer temperature of anyone entering the building. An alarm will sound if the individual's temperature appears too high, suggesting they could have the virus.
They will then be asked to sit in a safe area while a manual thermometer test is carried out.
Similar cameras are being trialled at Heathrow airport
The latest weapon in the fight against coronavirus was announced on Monday, after Balhousie boss Tony Banks revealed there had been 19 Covid-related deaths at homes operated by his company.
Mr Banks linked the high number of deaths to "mismanagement and missed opportunities" by the Scottish Government.
The £182,000 investment in new cameras – about £7,000 at each home and at the company's Perth HQ – is part of Balhousie's bid to take "every possible precautionary measure" to protect staff and residents.
As well as the new Hikvision-brand cameras, all employees wear PPE face masks and follow rigorous infection control procedures.
The company suspended all non-essential visits on March 11.
Chief executive officer Jill Kerr said: "While continuing to follow advice from Scottish Care and the Scottish Government, we wanted to ensure we were taking every possible precautionary measure to do everything we can to protect our staff and residents, and keep the virus out of our homes as much as we can.
"The Hikvision cameras are a highly effective way to monitor temperatures and we hope that they will reassure our staff and residents that their health and wellbeing is our first priority."
About 19% of Balhousie care homes currently report a suspected case of Covid-19, with around half of all residents who have died in May having tests positive for the virus.
Scott Davis, regional manager for Hikvision UK said: "We are pleased our products could provide a preliminary screening solution.
"Technology coupled with good hygiene practice definitely has a support role to play during these challenging times."