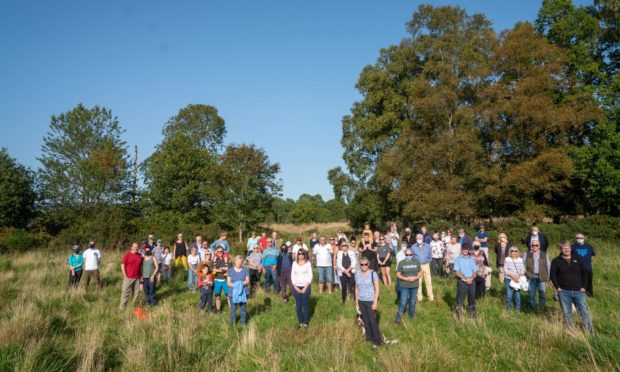 A second campaign group has joined the fight against a poultry farm for 26,000 birds being proposed for the outskirts of a rural Perthshire village.
Aviagen Ltd lodged plans for the scheme earlier this month, prompting a petition led by villagers calling themselves the Murthly Group which urges the Scottish Government to put a six month moratorium on industrial poultry units (IPU).
Now another group of residents under the name Druids Park Community Company (DPCC) have written to Perth and Kinross Council asking for the plans to be postponed until more research is carried out into the connection between poultry units and the spread of coronavirus.
Campaigners vow to fight plan for major new 26,000-bird poultry farm near Perthshire village
Dozens of campaigners gathered in socially distanced groups at the site on Saturday to protest against the proposal.
John Evans, chair of DPCC and Keep Murthly Beautiful, said there would be "dreadful consequences of potentially having a chicken farm so close to our primary school and upwind of and so close to the village".
His campaign group has pointed to the recent Covid-19 outbreak in Coupar Angus as well as another 2 Sisters cluster at a chicken factory in Wales as reasons for Perth and Kinross Council to be cautious of approving further IPUs.
In a letter to the local authority, the campaigners said: "The actual link between the virus and poultry farms and processing plants is not fully understood nor is the ultimate course of the pandemic over time.
"The total cost, in terms of human lives and long-term health effects of the virus, is inestimable.
"Therefore, the Perth and Kinross Council immediately should exercise an abundance of caution and care and forestall any further capacity being added to the existing number of industrial poultry units until more is known about Covid-19 and its transmission."
The group has also written to the Scottish Government echoing Murthly Group's call for a six month moratorium.
Perth and Kinross Council said such a restriction would be a matter for the government to decide.
A spokesperson for the local authority said: "The council will consider and determine this application in line with national planning regulations and guidance, including Scottish Government advice related to the planning system and coronavirus.
"However, there will be an opportunity for anyone to submit formal comments or objections regarding the proposal to us, which we will consider as part of the planning process."
Aviagen has tried to allay residents' fears by assuring them the plan is for a pedigree breeding farm rather than one that would produce poultry for broiler meat.
A spokesperson for the international company said: "The poultry buildings will be state of the art, energy efficient poultry houses designed for the purpose of rearing breeding birds, maximising their welfare and health and at the same time minimising the impact on the environment."