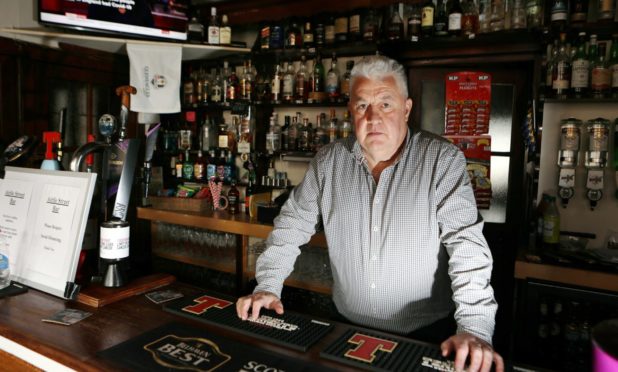 A landlord who has been forced to call time at his Perthshire pub says he is struggling to survive on just half the financial support available to counterparts in the central belt.
Dave Barclay has run the Airlie Street Bar in the centre of Alyth for more than eight years.
But with no outdoor facilities or food sales, the 58-year-old has been left with no option but to temporary close.
He said he is just about managing to keep paying staff with money from his own pocket but warned that if restrictions continue, he will have to consider redundancies.
He spoke out to highlight a disparity between the financial assistance available for establishments like his and ones that have been forced to close as a direct result of Covid-19 restrictions in worse-hit areas.
Mr Barclay said he was only entitled to a hardship grant of £1,000, while pubs in the central belt are being offered double that.
On Friday, the Scottish Government announced extra support of up to £2,155 for businesses that can remain open, but are still impacted by restrictions.
Establishments shut down by the government can now get £4,310.
Mr Barclay said: "We have not been forced to close, because technically we can stay open to sell soft drinks and coffees.
"But at the same time we can't justify staying open. For example, my usual turnover is about £500 a day, and that includes only about £10 of soft drinks.
"My trade is pensioners in the daytime and workmen at teatime. No one is coming in for a cup of coffee or a soda pop. Our customers just want a traditional pub."
'The room is a real mess': Alyth pub still closed as fire clear-up continues
For Mr Barclay,  2020 got off to a rough start when a fire upstairs forced the closure of his lounge.
He said: "I have managed to keep staff on for now, but I honestly don't know how long that can last.
"The people who work here are long-term friends, but if this goes on for much longer I might be forced to make them redundant. It really is a nightmare situation."
Local Conservative MSP Murdo Fraser has fought Mr Barclay's corner in Parliament.
"I am very concerned at the situation that Mr Barclay has been put in here," he said. "He is unable to trade, but the financial support available  is just half what he would get if his business was in Edinburgh, Glasgow or even Stirling.
"This looks like central belt bias, and could lead to redundancies and business closures.
"I will be raising this unfair treatment of Perthshire businesses with SNP ministers at Holyrood and pressing for a rethink."
A Scottish Government spokesman said: "We fully appreciate how difficult it has been for the hospitality sector, but these new restrictions are based on the fundamental need to reduce transactions, which we know is key to keeping infection rates as low as possible.
"We are doing everything within the powers we have to help businesses, offering support which now exceeds £2.3 billion, including 100% rates relief for pubs and restaurants for the year.
"Throughout this unprecedented economic crisis we have targeted our support at those most in need – in this case, the COVID-19 Restrictions Fund which will provide one-off grants to businesses, depending on rateable value, required to close by regulations."