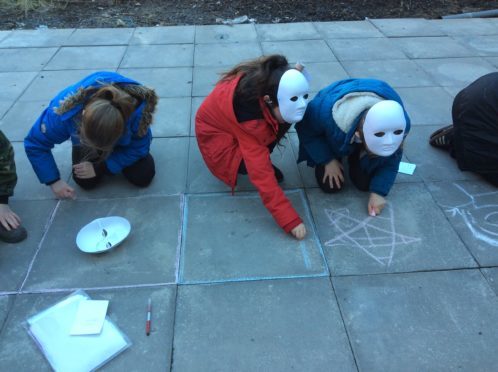 Perth's ancient vennels are to feature in the word's most prestigious architecture festival this summer in Venice.
A film documenting the city's ancient walkways will feature as part of Scotland's entry in the 16th International Architecture Exhibition The Venice Biennale, which begins next month.
The film, featuring children exploring and learning about the medieval streets, was put together by Perth architecture firm Fergus Purdie and artist Brian Hartley.
The firm put on a series of workshops for pupils at St Ninian's Episcopal Primary School with Mr Hartley helping the children create artwork in response to their experiences.
Gillian Edwards, principal teacher at St Ninian's said: "We were delighted to work with a local business Fergus Purdie Architects in Perth for the second time to take part in the International Venice Project.
"The children have had a fabulous opportunity of working with architects and artists both in school and in the local community."
The Venice Biennale is one of the world's leading architecture and arts festivals with an audience of more than half a million people each year.
Scotland's exhibition for 2018 will be titled The Happenstance, an exploration of how young people in the country respond to Freespace — this year's festival theme.
A 'living library of ideas' will be set-up in the garden at the heart of Palazzo Zenobio in Venice by lead artists/curators WAVEparticle.
Helena Ward, creative industries manager at Creative Scotland, said: "Central to The Happenstance project is the opportunity for children and young people to be involved at every level in re-imagining and improving our public places and spaces.
"Through WAVEparticle's inspiring and creative community-led approach, this project promises playful and insightful new perspectives of our public spaces."
Fiona Hyslop, cabinet secretary for culture, tourism and external affairs added: "The Scottish Government is pleased to support Scotland's participation as a Collateral Event in the Biennale Architettura 2018.
"Our presence at this year's Biennale Architettura offers a special opportunity during Scotland's Year of Young People to demonstrate how our country's young people can contribute to ideas at the most prestigious architecture event in the world."
The proposal is supported and promoted by the Scotland + Venice partnership: Scottish Government, Architecture and Design Scotland, Creative Scotland, British Council and the Year of Young People/Young Scot.