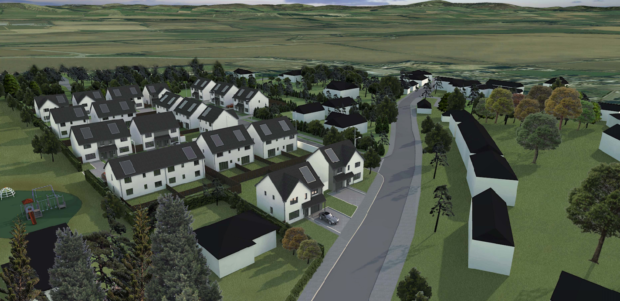 Controversial housing in a Perthshire village has been given the green light despite neighbours' objections.
Perth and Kinross councillors unanimously approved the development at Ardler Road, Meigle, despite the resident of a nearby house saying it will block daylight from his home and garden.
The application sparked 14 objections, including from David Heatherhayes, who attended the planning and development management committee.
He said six of the 29 houses will directly overlook his garden.
"All of the windows will overlook the entire length of the garden, the patio and the back of the house," he said.
"I think this is a serious loss of amenity for the property."
He said he is not opposed to the whole development but asked that the six two-storey bungalows nearest his house be reduced to three bungalows.
"I'm absolutely certain loss of light is a consequence of trying to shoehorn this development into too small a plot," he said.
"I feel this could be an excellent development if more imagination and space was given."
Councillors were told they do not have the power to reduce the number of houses through the planning process.
Planning officer James Scott said: "Any building will have some impact for some period of the day, particularly in winter when the sun is lower.
"We did not deem it to be an unacceptable impact."
The 29 homes will be a mix of two, three and four bedroom properties, as well as a block of four flats.
They will be built on agricultural land opposite Victory Park, which includes a play park, cricket pavilion and playing fields.
A report for the committee acknowledged the development included more houses than the 20 earmarked in the council's local development plan but recommended it for approval as the buildings will be smaller.
It said: "The site is higher in density than indicated in the local development plan allocation to provide affordable housing and a range of smaller houses aimed at first time buyers."
The housing was welcomed by Councillor Eric Drysdale, who proposed the motion to approve planning permission.
He said: "I am impressed by the design of this development and in my mind the developers should be commended for it."