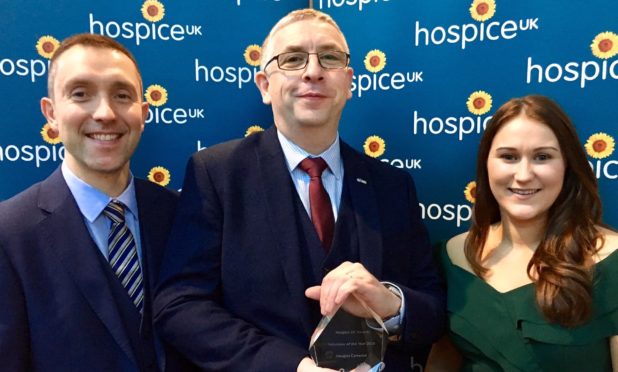 Pioneering social media work by a volunteer at Rachel House Children's Hospice in Kinross has been celebrated at a national awards ceremony.
Tech wiz Douglas Cameron was instrumental in setting up an influential Facebook campaign for Children's Hospices Across Scotland, better known as CHAS.
The charity was among the first in the world to use the social media giant's Workplace platform to help reach hundreds of helpers, children and families throughout Scotland.
It helped unite more than 900 people who were able to share information and experiences, from fundraising in the Highlands to providing therapy to two hospices at either side of the country.
Douglas also developed a user-friendly "bot" – named CHASbot – to answer frequently  asked questions from volunteers.
This helped generate significant levels of interest from other charities across the UK, which have in turn been inspired to develop the technology for themselves.
Douglas, from St Andrews, saw his hard work recognised at the Hospice UK awards in Shropshire, where he was crowned Volunteer of the Year.
The 49-year-old said: "I am a very proud advocate of CHAS and it is very humbling to represent all the good that so many people do.
"Volunteering gives me a tremendous sense of worth. CHAS staff add to that by always making me feel valued, so winning the award is a very unexpected additional recognition."
He said: "I've had a working knowledge of CHAS from back when I managed a social work team, and since then the CHAS collection box has been my go-to for donations."
Douglas, who is digital manager at the Scottish Children's Reporter Administration, said: "As much as I enjoy technology, it can be very impersonal and I miss the human aspects of my earlier career.
"My teenage daughter was still at school and had ambitions of being a paediatrician, so as something to do together and knowing CHAS would either make or break those ambitions, we signed up together to volunteer two years ago.
"My initial experience of CHAS was and mainly still is Sunday mornings at Rachel House, fixing the technology and getting involved in activities. It's actually the most fun and relaxing thing I do in a week, it's generally a joy."
Volunteering development manager for CHAS Morven MacLean said: "We are thrilled to see Douglas recognised for his efforts in this way."