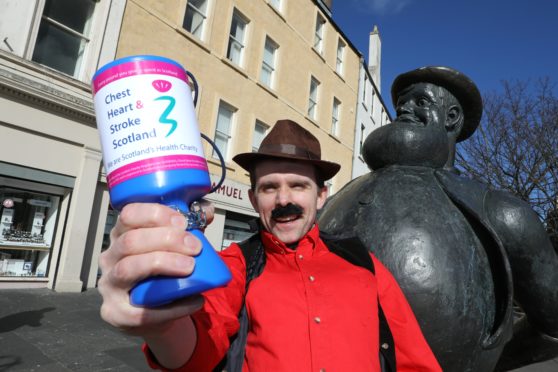 A charity is asking people across Tayside to dress up as their favourite comic characters to help raise £30,000 in three weeks to save a life-changing service for stroke survivors.
Chest Heart & Stroke Scotland (CHSS) is calling for volunteers to join them on the streets of Dundee and Perth this month for the launch of their Big Beano Bucket Shake.
The fancy dress event is part of CHSS's fundraising efforts to save their pilot holistic rehabilitation support project in Perth and expand it throughout Tayside.
The pilot scheme is currently running out of Perth Royal Infirmary and helps stroke survivors maintain their independence after they return from hospital but it has no funding to continue beyond the end of March.
Chest Heart & Stroke Scotland hope people across Tayside will dress-up in Beano and Dandy character costumes and join the fundraising events in Perth on March 23 and Dundee on March 24 in a Desperate Dan dash to save the vital service.
Lawrence Cowan, of Chest Heart & Stroke Scotland, said: "This service is changing people's lives in Tayside.
"It is supporting them to get their confidence and independence back and do the things they love again. We desperately need your help to keep this service running.
"Make your time matter on March 23 or 24 and join stroke survivors in your area to save the service helping them rebuild their lives.
"It's a big target but with your support we can smash it and have some fun in the process – who doesn't love to dress up.
"Come on Tayside, let's raise £30k in less than three weeks and help ensure there is no life half lived for stroke survivors in Tayside."
Stroke survivor Pam West, 87, from Dunkeld, has joined the fight to save the service that is helping her get back on her feet.
Pam believes Hazel Staniforth who delivers the service in Perth is helping her every step of the way.
"Hazel made me look beyond my stroke. When I got upset she was there.  She understands and has given me so much confidence.
"After my stroke, even making a cup of tea was difficult because of my vision difficulties which prevented me from judging distances when pouring tea. Consequently, I would flood the counter with hot tea."
"Hazel really helped. I love Hazel's company.  I can really talk to her."
Jane-Claire Judson, Chief Executive at Chest Heart & Stroke Scotland, said: "What's important is rebuilding Pam's confidence and getting her back to doing what she loves.
"This amazing service is doing that.
"It's helping people across Tayside, like Pam, reach their goals and live life to the full.
"We have been overwhelmed by the support we have received already to help stroke survivors in Tayside rebuild their lives.
"But we desperately still need your help. This is an urgent appeal to help people in your community live a full life."