Education chiefs in Perth, buoyed by the success of Bertha Park High, are poised to launch a consultation on their next £50 million school project.
Talks on the long-awaited rebuild of ageing Perth High School will begin "imminently", it has been confirmed.
And parents are being encouraged to check out the city's newest school for a glimpse of how the new building could look.
A public open day is being planned for £32.5m Bertha Park. A date for the event has yet to be set, but headteacher Stuart Clyde will give a tour to invited parents in early September.
Last week The Courier had a first look at the new school, with video footage above this article.
PICTURES: No bell, no phones and no staff room…take a look inside Perth's £32.5m new school
Perth and Kinross Council's lifelong learning convener Caroline Shiers said the new school, which opens its doors to pupils on Wednesday, will inspire the Perth High project.
"We are building schools for the future," she said. "When we start shaping our plans for Perth High, we will look at what ideas we can bring forward from Bertha Park.
"Perth High will be a replacement school, but it will be a completely new building. We will look at what we've done with Bertha Park and see what we could do similarly and what things we would change."
She said there is no timescale in place for the project, but said talks with focus groups, teachers and parents will begin "imminently".
Ms Shiers has urged Perth High parents to attend the Bertha Park open day. "The new Perth High may end up being not dissimilar," she said.
"But we are still working on what will be the school's unique selling point."
The Conservative councillor said there had been "huge interest" from other councils in the Bertha Park project, which was unveiled last week.
"There has been interest in terms of the building, but also in terms of how Mr Clyde and his team are structuring the school day, the use of iPads and other changes he has made."
The rebuild of Perth High was controversially approved last year.
Council leader Murray Lyle said the £50m scheme was needed because Perth High was in a poor condition, and had "probably gone beyond its life expectancy."
But approving a budget for construction, meant cutting spending on other schemes such as the long-standing PH20 project to revamp Perth Leisure Pool.
Bertha Park is the first brand new secondary school in Scotland – not a replacement – this century.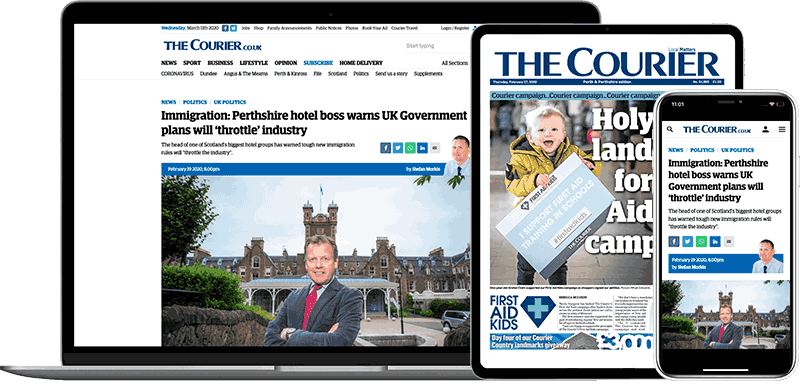 Help support quality local journalism … become a digital subscriber to The Courier
For as little as £5.99 a month you can access all of our content, including Premium articles.
Subscribe