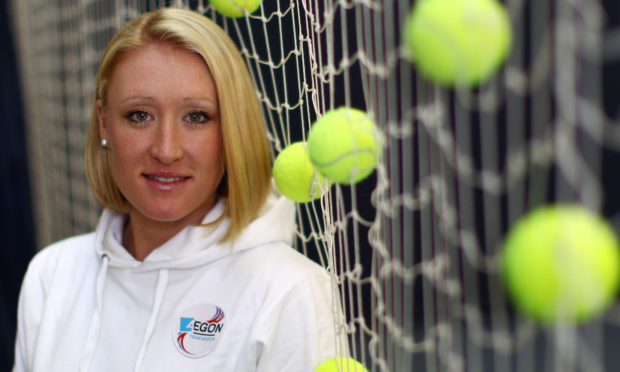 Judy Murray is among the friends, family and fans who pay tribute to tragic Perth tennis star Elena Baltacha in a new feature-length  documentary.
The former Fed Cup captain describes Elena's generous spirit and her natural strength, describing her as "a ferocious competitor that looked as tough as nails."
Ukraine-born Baltacha was the women's number one in the UK intermittently between 2002 and 2012, and spent part of her childhood in the Fair City where her father Seregei played for St Johnstone.
As a youngster, she was a member of the Perth Lawn Tennis Club. She later followed in her father's footsteps to the Olympic Games in London 2012.
Elena died from liver cancer in 2014, when she was just 30 years old. She had only been married to her tennis coach and partner Nino Severino for five months.
Now a new TV documentary tells her incredible story, from her roots in the former USSR to her life in Scotland.
Judy Murray recalls meeting nine-year-old Elena at a tournament in Dunblane, saying: "She bowled up, ginger hair, cap on, big glasses, shorts. She asked: 'When am I playing?'
"I went: You need to tell me who you are first. 'I'm Elena Baltacha'. I said: We need to wait for this match to finish. You keep an eye on that court, you'll be on soon."
Ms Murray said: "She kind of hassled me all day. She was desperate to get on.
"She won the tournament, her thumping serve meaning she lodged the balls in the hedge upsetting her opponent in the process. It was an indicator of her natural strength – little girls aged nine just do not serve like that."
The film, made by award-winning Purple TV, leads up to her final days when – just weeks after her wedding – she was taken to hospital in severe pain.
Mr Severino said: "She was in hospital for a few days and after a few days, she said to me: 'Please come in, I've been diagnosed with cancer.'
"And that was the start of the hell."
He added: "It was just the most mind-bending experience really, a terrible end to an incredible life."
Writer, producer and director Margot McCuaig said: "Elena Baltacha didn't just pursue her dreams, she embodied them.
"Her strength and resilience was manifested in the empowering manner in which she led both on and off court.
"As a Scottish national hero, it is only just that her life should be celebrated in film and her achievements treasured as part of our rich cultural firmament."
Elena Baltacha will be broadcast on BBC Alba on Sunday, December 1 at 9pm and will then be available on iPlayer for 30 days.