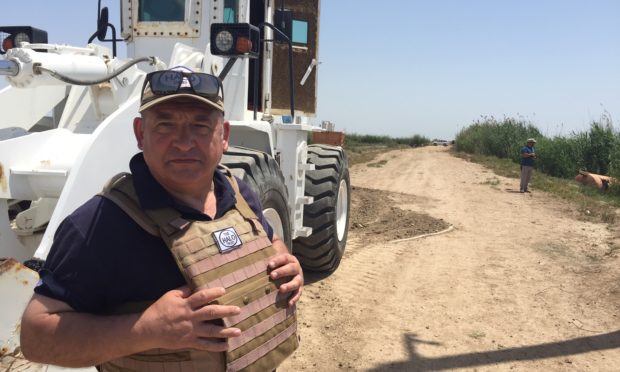 A landmine expert has called for people to make the most of doubled-up donations this weekend to maintain a crucial mine clearing operation in Iraq.
Frank Philip MBE, from Kinloch Rannoch, has been among the experts clearing belts of improvised explosive devices (IED) installed by Isis, as well as unexploded devices dating as far back as the 1980s, laid during the nation's war with Iran.
Having first met charity The Halo Trust in Somalia while working in private security, former soldier Frank quickly became involved with the organisation.
The Montrose-born 60-year-old spent 30 years with the Gordon Highlanders and served in Iraq before returning to the war-torn nation in 2017 with Halo.
He said: "My background isn't in mine action. After I left the army in 2008, I entered private security and when I was working in Mogadishu, I came across the Halo Trust.
"A few months later, I began starting work with them in Iraq. I'd served there before in the army and in my post-military career."
Frank said it was surprisingly straightforward to start work with the charity in the country littered with more unexploded landmines than anywhere else on the planet.
"I can't say I've met with many landmine victims because the majority of victims are dead.
"The standards of IED we are pulling out the ground are like a 20-litre jerry can with a fuse, a power source, and a switch, which is a pressure plate normally.
"It's not like anti-personnel mines designed to wound or maim. These IEDs will remove all traces of you if they function and there's still a lot out there."
The majority of mine clearing organisations are based in the Kurdish regions of Iraq but working from capital Baghdad has made it easier for residents returning from refugee camps to settle in at home.
"The majority of work clearing improvised explosive devices built by Daesh (Isis) is done in Kurdistan. Explosives have been deployed in belts like militaries do on an industrial scale.
"A large number of people who were displaced are coming back but there is still so much contamination and risk.
"We are still training people to become IED removers and educating people about the risks of living near landmines.
"All donations made to the charity's 'Breaking Boundaries' three-month campaign up to this Sunday will be doubled by DFID through its UK Aid Match scheme."