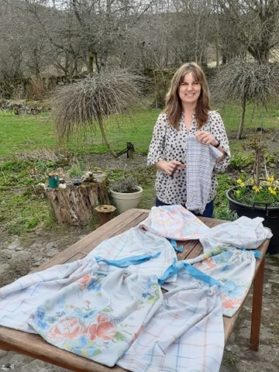 A Perthshire woman is stitching old shirts into infection control measures for medical staff.
Dorothy Williamson, from Fincastle, near Pitlochry has been turning old shirts, pillowcases and duvet covers into fully washable bags for NHS staff.
Nurses, paramedics and other medical staff who have to change out of their uniforms before leaving NHS facilities can put potentially contaminated clothing into the fabric bags then put the whole thing in their washing machine at home. It means they minimise the risk of infected clothing coming into contact with any people or surfaces where the virus could spread.
Early childhood practitioner Dorothy came across the idea on Facebook and has so far delivered more than 20 of the bags to medical specialists working across Tayside.
Dorothy, who has been sewing for years, made the first bag for her sister-in-law, an occupational therapist who works across Highland Perthshire.
Word quickly got out and she has now run out of old shirts belonging to husband and Perth and Kinross councillor Mike, so has moved onto duvet covers and pillowcases as the orders pour in from staff at Ninewells and PRI.
Dorothy said: "My sister-in-law is an OT and took a bag into the hospital in Pitlochry. Since then, I've made more than 20 in total.
"The bags can be washed at 60 degrees, which is important.
"Usually people have to get changed out of their uniforms at work and they get bundled into a carrier bag, to get bundled back out into the washing machine."