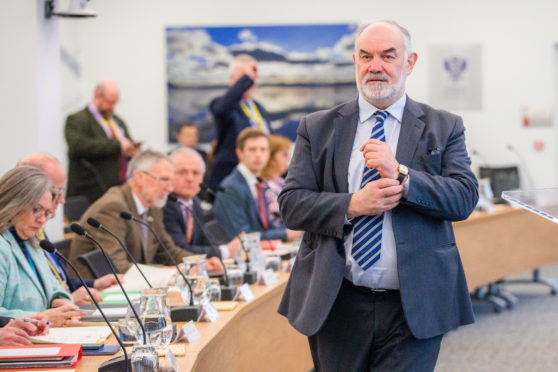 More than £4.5 million has been paid out to crisis-hit businesses across Perth and Kinross.
Council chiefs have been inundated with applications for Scottish Government funding to support firms hit by Covid-19.
Extra staff have been deployed to deal with 2,100 bids from shops, restaurants and other small businesses from across the region. So far 400 applications have been processed.
Council leader Murray Lyle said the business support fund has become a priority for the local authority, as it tries to soften the blow of the virus on communities throughout the area.
But there was criticism that the Scottish Government-led scheme limited grants to one per business, instead of per premises, prompting one local hotelier to warn that establishments could be forced to close.
Meanwhile, a further 100 Perth and Kinross Council staff are being retrained for health and social care posts. Sessions are under way at the Gleneagles day care centre.
"I can only praise our staff for the way they have stepped up," Mr Lyle said. "Many of them are working extra hours and extra shifts, while many others have been redeployed.
"We have a significant number of staff down, including our social care sector. We are managing to replenish this department with volunteers and through redeployment.
"The training at Gleneagles will help ensure that we have an adequate resource of people to maximise and keep up the levels of care that people expect."
Beechgrove Care Home, which was controversially shut as part of a £500,000 cost saving plan, is being reopened to take 20 patients and help free up space in local hospitals.
Capacity at Parkdale Care Home will also be increased.
Mr Lyle said the council had "adequate" supplies for personal protective equipment (PPE) for its staff, including the 200 employees who running childcare hubs at five schools for almost 430 children of key workers.
"We are monitoring stock on a daily basis, and our supplies are being replenished regularly."
He said 3D printers at schools and libraries were also being used to make PPE.
Mr Lyle said that extra staff had been deployed from accounting tams to help with applications for business support grants.
"We have managed to put a substantial amount of money back into our business community," he said. "We are well aware that many businesses are suffering right now and we want to do what we can to assist with their resilience.
"Speaking to colleagues across Scotland, we appear to be very well placed in this department, if not one of the leading authorities in the country for getting this funding back out into the community."
Hotelier Robert Allan, whose family runs two hotels in Perthshire and one in Fife, said the Scottish Government's package to help the hospitality sector disadvantaged  business owners with more than one premises, while a similar scheme in England covered each site.
Mr Allan told  The Herald: "A grant of £25,000 will be issued, not the £75,000 we should be getting. Apart from the imbalance of a single unit of similar size getting the £25,000 grant, we are expected to divide the same amount between three units."
Mr Allan, whose family owns the Bridge of Cally Hotel, Breadalbane Arms Hotel and the Inn at Lathones added: "The result for us and similar hospitality businesses, will be the permanent closure of our rural units that are often the only employer in the area where they are situated."
A Scottish Government spokesman said it "recognises the ongoing challenges faced by individuals and businesses caused by the coronavirus pandemic and took immediate action within our devolved powers and resources at our disposal to provide support".
He added: "This support has been tailored to the tax base and tax system in Scotland. It is important to note that this is not the only form of support for businesses and individuals available."