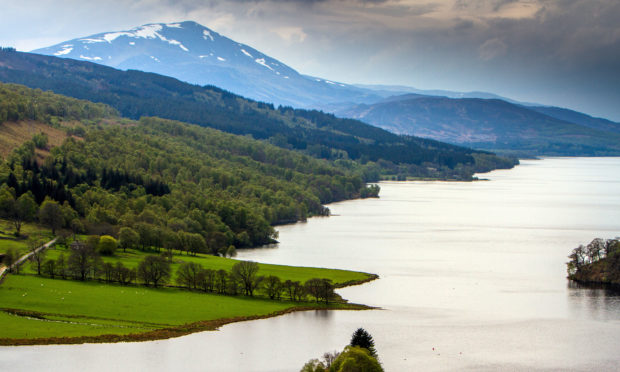 The volume of campers descending on Highland Perthshire has been described as "bonkers" with locals saying police are unable to deal with the number of call-outs to beauty spots.
Large swathes of tourists have been accused of flouting lockdown rules to travel to Loch Tay, Loch Tummel and Loch Rannoch over the course of the weekend.
Jennifer MacIntyre, who runs The Stable Loft on Loch Tumel, believes there should be more police patrols in the area to deal with the influx.
She said: "The police are fighting a losing battle because more people just move in.
"They've told me they only have one patrol car and are spread really thin.
"I think there should be more patrols, they've been inundated.
"I'm just surprised and angry by the sheer volume (of tourists) here. They're not all from the same house. It's crazy."
Politicians have blamed the actions of Dominic Cummings for the increase in people choosing to break lockdown rules.
Mike Williamson SNP councillor for Highland Perthshire, said: "It's just bonkers up at Loch Tay, Loch Rannoch and Loch Tummel.
"I am disappointed that the relaxation of the lockdown rules has led to this selfish behaviour.
"Due to the actions of Dominic Cummings this has further destroyed public trust in the health message.
"As all the caravan sites and toilet facilities are closed I do question where people are disposing of their human waste.
"There are many homes within Highland Perthshire who are on a private water supply.  They will be concerned about this waste entering their water supply and creating an additional health hazard."
Pete Wishart, SNP MP for Perth and North Perthshire, said: "We have seen the increase in traffic of people heading up to Highland Perthshire.
"People are forgetting what is required of them. The message is still stay at home if they can.
"I think it's a lot to do with Dominic Cummings. It's bound to have an impact when people see someone like (him) flouting all the rules."
Independent Highland Perthshire councillor, Xander McDade, said the "significant breaches" were putting everyone at risk.
Councillor McDade said: "Following the easing of lockdown restrictions there has been a sharp rise in traffic to the Highlands.
"A number of constituents have contacted me to report breaches of the new guidelines involving campers and campervans.
"I passed these concerns on to the Police who immediately went out to investigate the matter and to investigate other similar incidents."
Police Scotland would not confirm how many times they were called to the beauty spots.
However a spokesperson for the force said: "The regulations are clear – people should only leave the house for very limited purposes, for example for basic necessities, for exercise or recreation, for medical needs or travelling for work which cannot be done from home. "