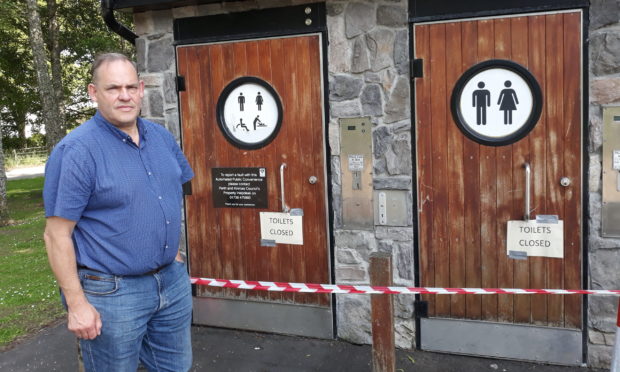 Locals are demanding the reopening of public toilets in Highland Perthshire after an influx of campers to the region in recent weeks.
Visitors have been accused of leaving human waste around beauty spots at Lochs Tay, Tummel and Rannoch which supply water to nearby communities.
It's hoped the Scottish Government will permit the reopening of services by July 3 in line with current phasing but residents and politicians for the area are calling for them to be brought back into use with immediate effect amid serious concerns for public health.
Conservative Highland Perthshire councillor John Duff is among those asking for action to be taken "as soon as possible".
He said: "The delays in public toilets being re-opened are the source of regular complaints with me just now.
Perthshire residents scared to leave homes as Loch Tay and Tummel campers dump tents and rubbish
"Residents living in Aberfeldy, Pitlochry and Blair Atholl are all concerned about the influx of visitors and the fact that there are no public toilets at the moment, and very few comfort schemes either.
"We don't want to see the type of anti-social behaviour and public indecency seen elsewhere.
"We need this permission as soon as possible as I'm sure there will be more visitors travelling to Highland Perthshire."
SNP councillor for the region Mike Williamson has raised fears about where campers have been depositing their waste.
He said: "As all the caravan sites and toilet facilities are closed I do question where people are disposing of their human waste.
'Bonkers': Tourists slammed for breaking lockdown rules to travel to Highland Perthshire beauty spots
"There are many homes within Highland Perthshire who are on a private water supply.
"They will be concerned about this waste entering their water supply and creating an additional health hazard."
The influx of campers to Highland Perthshire during lockdown has been a source of concern for residents.
Huge amounts of rubbish have been dumped along the shores of lochs and cars have taken over farmer's fields and roadsides, causing obstructions for emergency vehicles.
A new action group has been set up to tackle the problem with a range of ideas including no camping zones, parking restrictions and an alcohol ban all being discussed.
Some residents believe new camping restrictions at Loch Lomond have driven campers further north and want their area to be given similar protection.