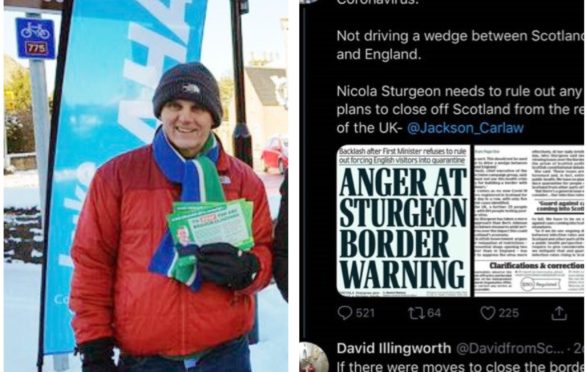 A Perth and Kinross councillor has come under fire for likening the transmission of coronavirus to that of HIV.
David Illingworth made the comment in a tweet while debating the question of closing the border between Scotland and England if a second spike were only to occur on one side.
Criticising the merits of a quarantine period for travellers arriving in Scotland from England, the Conservative said: "If there were moves to close the border because of the high incidence of HIV in Glasgow, then everyone would be rightly horrified."
He would not discuss the claims when approached by The Courier but deleted the tweet following a backlash from other users.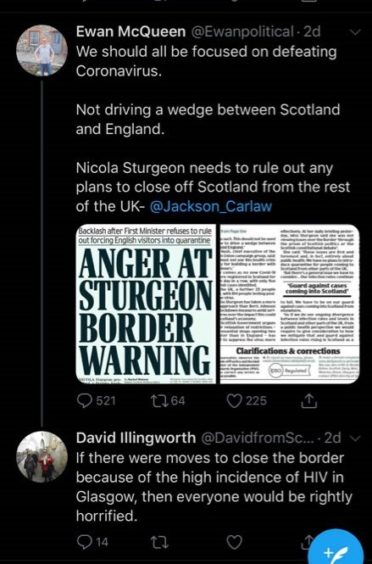 Now campaigners have weighed in, saying the comments risked stigmatising people with the condition and undoing decades of work to reassure the wider public that they were not in danger of contracting HIV.
The Terrence Higgins Trust, the UK's leading HIV and sexual health charity, said the comparisons were "really unhelpful".
"Both viruses have had and continue to have a big impact on the world and people's lives, but they are very different," said a spokesperson.
"While HIV is now manageable, it remains a lifelong condition for those diagnosed and there's still a huge amount of stigma and misinformation that surrounds it.
"We know from the work we do how this stigma impacts the lives and mental health of people living with HIV. We've also had a lot of feedback from those who use our services that lazy comparisons between HIV and Covid, whether on social media or in real life, are upsetting for many."
Mr Illingworth, who represents the Almond and Earn ward, was also condemned by opposition councillors.
SNP counterpart Mike Williamson said: "These comments are ill thought out and badly judged. They make a mockery of this global pandemic as well as people who have been infected by Aids.
"Everyone should be focusing on eradicating this disease and not making disgusting jokes about peoples illnesses and constitutional issues.
"I am quite sure that the people in Almond and Earn, who councillor Illingworth was elected to represent, will be rightly outraged at these comments."
According to the World Health Organisation, Covid-19 spreads primarily through droplets of saliva or discharge from the nose when an infected person coughs or sneezes.
Experts from the medical body say HIV can be transmitted through the exchange of some body fluids, not including saliva, but stress people cannot become infected through ordinary day-to-day contact such as kissing, hugging, shaking hands or sharing personal objects, food or water.