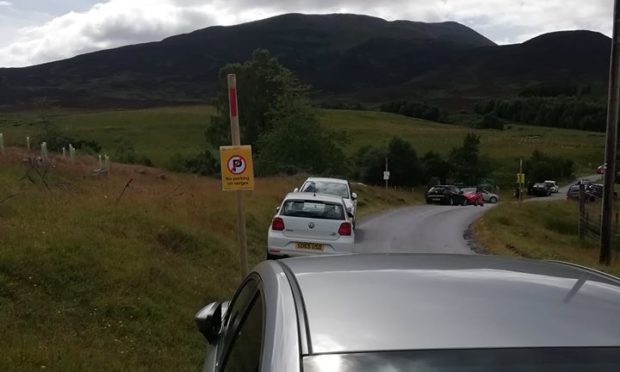 Tourists in Highland Perthshire have been spotted flouting no parking restrictions along rural roads as the local authority attempts to crack down on wild campers.
Multiple cars were abandoned directly beside parking restriction signs on the way to Schiehallion near the Braes of Foss Car Park on Wednesday afternoon around 3pm.
Andy Ferguson, who photographed the offending vehicles, said: "It gave me a good laugh.
"Two yellow lines and a traffic warden and they probably wouldn't take any notice of that either."
Locals called on tickets to be handed out to motorists who continue to ignore the signs.
One said: "They need to start lifting all the cars and charging £100 per hour for storage."
Worst weekend yet as hundreds of campers cause chaos at Perthshire lochs
Tayside Police say they have stepped up patrols in the area recently and were forced to ask drivers to move from a number of areas including Schiehallion, Loch Clunie and Loch Tummel.
A spokesperson for the force said: "Some issues were found with inconsiderate parking near Schiehallion, which was a very busy place over the weekend.
"Despite a plethora of signage along with the deer fencing, numerous cars were parked on the verges.
"We are hoping to arrange for parking attendants to look at this over the coming weekend.
"A number of people were asked to move cars parked on main roads around Clunie Loch and Loch Tummel / Foss Road, and everyone who was asked to do so complied with the request. Some campers also moved from a field at our request."
The latest incidents arose as Perth and Kinross Council agreed to introduce new measures to tackle dirty camping at Loch Clunie where a estate worker was stabbed last month.
Man charged with alleged stabbing at Perthshire loch as estate owners call for government action on anti-social behaviour
The local authority have made the A923, the main road passing the loch, a clearway,  prohibiting any vehicles from parking by the road.
Steps will also be taken to prohibit parking on all the roads directly surrounding the loch with temporary signs  erected in the coming weeks, with more permanent signage to be put in place in the months ahead.
Strathtay SNP councillor Grant Laing welcomed the new measures but warned it was not a "silver bullet" solution.
Councillor Laing said: "I'm glad that council officers have been able to work with myself, John Swinney and local residents to take tangible action to address this issue.
"This is not a silver bullet, but it is a clear sign of intent.
"It is important that we carry this momentum forward to ensure we are doing all that we can to protect our beauty spots."
Depute First Minister John Swinney MSP said: "Dirty camping is a blight on our communities and damaging to the local environment.
"Having engaged with this issue for a number of years, I am pleased to see a fresh impetus to tackle it at council level."