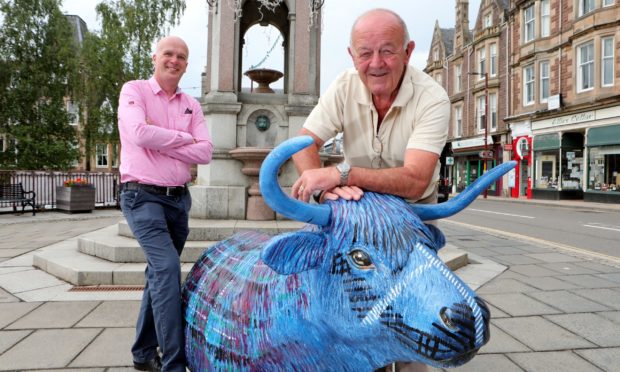 A life-size Highland Coo artwork has been permanently rehomed in the market square of Crieff to mark the 150th anniversary of the town's Highland Gathering.
The statue is one of 11 Cowches placed around the Perthshire town last summer to create an artistic tourist trail that drew thousands of visitors to the area.
The Cowches were then auctioned off at a charity event, raising more than £20,000 for the Scottish Charity Air Ambulance, with Crieff Highland Games bidding £3,700 for its statue.
Crieff aims to moove on up in the visitor stakes with launch of Highland coo sculpture trail
Named McGregor and designed by local artist June McEwan, the Cowch was the hottest property in the auction and will now sit on the square after the Games' board won approval from Perth and Kinross Council.
McGregor has been stored at the home of local businessman and 2019 Chieftain of the Gathering, John (Jock) Dewar, since last year's Games.
John was also the second highest bid of the charity auction night, buying Sweetie Annie for £3,600.
He believes marking the 150th anniversary is important to keep the event alive after it was cancelled due to the pandemic.
John said: "We're trying to keep a little interest there and let people know they (the Gathering) will be back in the future.
"They (the Cowches) drew a lot of people to Crieff last year and we had them up at the Highland Gathering.
Crieff's Highland cow art trail raises nearly £25,000 for charity air ambulance
"After the Games last year McGregor came down here and stayed in my garden and kept mine company."
Anna McLean, chairwoman of the Crieff Highland Gathering, thanked John for storing and then installing the new town centrepiece.
She said: "John Dewar kindly stored the Cowch for Crieff Highland Gathering until we were in the position to located McGregor back to the Square in advance of what would have been our 150th anniversary Games on August 16.
"A huge thanks has to go to Jock and his men for relocating McGregor back to his resting place for the foreseeable future.
"Jock was our 2019 Chieftain and played a huge part in making a superb Games and has been a great advocate for the Games past and present."