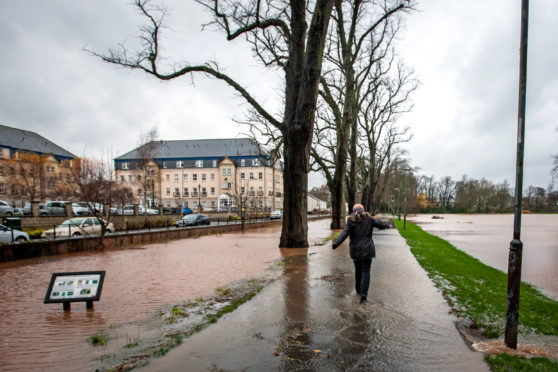 Perth residents will "rightly demand" assurances over the city's drain infrastructure capabilities, after the Fair City was drenched in 86.4mm of rain in one 24-hour period, it has been claimed.
By comparison, Perth would see an average of 65mm of rain in the whole of August.
This prompted calls for improvement to drains after infrastructure was overwhelmed.
MSP Murdo Fraser, who represents the Mid Scotland and Fife region wants assurances from Scottish Water the drain infrastructure is fit for purpose.
He said: "Despite Scottish Water looking into Perth's drain infrastructure local residents will rightly demand more assurance from them that the city will not see a repeat of the recent flooding.
"We are increasingly seeing more of these severe weather patterns so Scottish Water need to pull out all the stops to ensure Perth's drainage infrastructure is fit for purpose."
Councillor Chris Ahern of the Perth City Centre ward echoed Mr Fraser's concerns.
He said: "We are all aware that the events of the other week were exceptional, but I fear that exceptional weather will become the norm in the near future.
"Where is the evidence of Scottish Water's maintenance regime, with regards to the actual pipe work?
"It does not really matter if the pumps are working at the capacity or are maintained if the pipe work leading to them is not maintained."
Scottish Water said it is working with other agencies to combat the issue.
A spokesperson said: "The severe storm that affected Perth in the early hours of 12th August was significantly in excess of the capabilities of all urban drainage systems, including the sewer network that Scottish Water operates and maintains.
"Both the sewer and storm pumping stations, which serve the main trunk sewer in Perth at South Inch, were operating at full capacity during the time of the storm.
"The complex nature of flooding across Scotland means that a partnership approach is vital for reducing the risk of flooding."
They added: "We have recently undertaken an Integrated Catchment Study, in collaboration with the council, to understand and accurately model the sewer network and the wider drainage systems that serve the city.
"This work is enabling joint projects, which are now in progress, to address areas with the greatest risk of flooding."