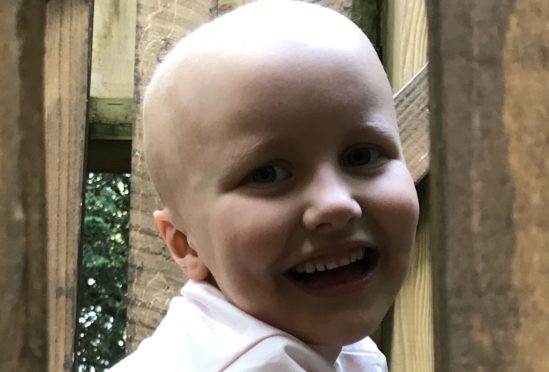 Schoolfriends of a tragic Perthshire schoolgirl have planted a lasting memorial in her honour.
Pupils at Inchture Primary School spent a day planting bulbs in memory of Ruby Stewart, who died earlier this year from a rare form of cancer.
The event was organised by the primary five class and brought together everyone in the school.
Teacher Harriet Brownlee said the youngsters wanted to do something to ensure Ruby, who died just days before her seventh birthday, would be remembered for years to come.
The event coincided with Childhood Cancer Awareness Month.
The bulbs were donated by the nearby Glendoick Garden Centre,
The entire community rallied behind Ruby before her death in January from rhabdomyosarcoma, an aggressive form of childhood cancer.
The keen dancer and swimmer was a popular figure in her own hometown as well as further afield and inspired a host of fundraising events for cancer charities.
During her final months, she worked with copywriter Kevin Anderson to make a book called The Unicorn with the Ruby Horn.
A fundraiser was set up for ward 29 at Ninewells hospital in her memory, which raised more than £1,000 in the first 24 hours.
At the end of last month, Ruby's parents, Claire and Andy Stewart, donated gift bags to youngsters being treated for cancer at Tayside Children's Hospital.
The Stewart family have launched a range of merchandise – including face masks with the 'Be More Ruby' slogan – to raise money for the Children's Cancer and Leukaemia Group.
All money from sales through the website – www.bemoreruby.com – will go into a dedicated fund called Super Ruby's Rhabdo Raiser which supports research into rhabdomyosarcoma.
It is the only charitable organisation in Scotland dedicated to fighting the disease.
The P5 class were also key to Inchture Primary School being awarded the Eco- Flag renewal for 2018- 2020.
Ms Brownlee said the youngsters had worked hard to encourage recycling and reduction of energy within the school.
Keep Scotland Beautiful praised the pupils' enthusiasm.
In its message to the school, a spokesperson said: "Giving each class the responsibility for a different area of the playground was brilliant.
"It is clear that this enthusiasm permeated beyond the school as even your local garden centre became inspired, and donated materials for the work to happen again this year."