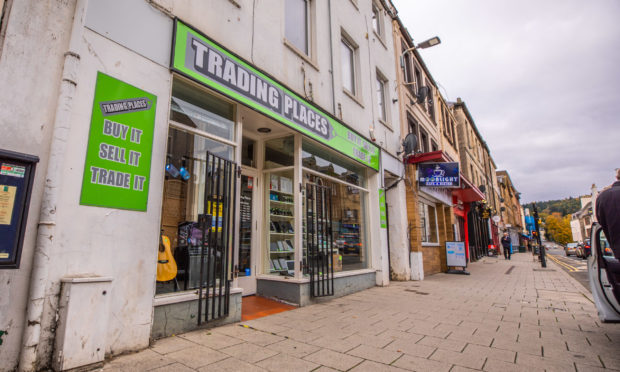 Police raided a second-hand shop in Perth in the hunt for stolen goods and seized more than 100 items.
It is thought the goods had been taken from other shops nearby before they ended up in the Trading Places store on the city's South Street.
Police would not say what the items were, however a spokesman confirmed most had been returned to the stores they belonged to and that an investigation is under way.
A spokesman for Trading Places, which sells a range of second hand items, including electronics, games consoles and musical instruments, said the business had "no comments at all" when asked about the raid.
Another city centre trader said shoplifting was a huge concern.
Marcelina Hupert of House of Highlands on the High Street said: "We have had people coming in trying to steal.
"Sometimes police have come back with stock that has been stolen.
"It is not easy because it is hard to stop them. They know what they are doing and why they are here.
"Two people will come in, and one person speaks to staff and another tries to steal.
"They are not afraid – it is their lifestyle. You recognise the same people who try to steal, and you can't tell them to leave because they haven't done anything yet but you know what they are trying to do."
Taner Ozturk of Mr Mobile on South Street said shopkeepers were often offered stolen goods for resale.
"This is happening all the time", he said.
"Sometimes people try to sell us items for under the real value and we don't buy from them as it's suspicious.
"Any dealings like that are not ideal."
A Police Scotland spokesperson said: "Following a search of the second hand shop Trading Places, South St, Perth, in excess of 100 items were seized by police on the suspicion that the goods were in fact stolen.
"The vast majority of these goods have now been returned to their respective stores and enquiries into the circumstances of there being found at the shop are ongoing."
Liberal Democrat councillor, Peter Barrett said: "It is very concerning that items have been seized by the police and returned to the local stores from where they were shoplifted in the first place.
"It is also likely that innocent shoppers have unwittingly bought stolen goods.
"If any customers are now in any doubt that items they purchased may have been stolen, I would urge them to contact the Police."
SNP representative Andrew Parrott added: "I am delighted that the police have had some success in tackling this matter and I hope that they are able to uncover the full extent and nature of these criminal acts and bring those responsible to justice."