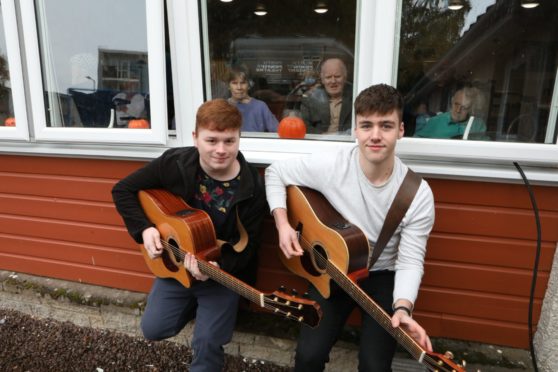 Residents at a Perth care home were entertained by live musicians thanks to a new programme by Horsecross.
The team behind Perth Concert Hall and Perth Theatre brought their Gig on a Truck to the Balhousie North Inch Care Home in the city.
Musicians performed a number of songs on a small-scale stage – which is easily transported in a van – in the home's outdoor zone as residents watched eagerly from inside the communal area.
Activities co-ordinator for Balhousie North Inch Care Home, Mima Stewart said: "Because of COVID restrictions, residents are not only missing family and visitors, but they are missing live entertainment.
"The Gig on a Truck project is brilliant because it means the residents can see bands and artists on stage from their windows. The music will lift their spirits during this horrible time."
Artistic Director at Perth Theatre, Lu Kemp believes music will allow residents to feel a connection that has been lacking during lockdown.
"If lockdown and our exit from it has confirmed anything, it is that we all need connection, and live performance absolutely delivers that", she said.
"For the residents of care-homes the isolation of this period has been challenging and we're excited to reach out to this audience."
Having launched this week, it is hoped the new initiative will pick-up again in the spring.
Horsecross Arts Chief Executive, Nick Williams said: "The whole point behind this is to bring a bit of enjoyment to people who have had a really tough time during the pandemic.
"It started just this week in its pilot project. [Residents] are delighted that we have brought something good to them. We are open to requests for the Spring version of this."
The team behind Gig on a Truck plans to further extend their reach further down the line, with scope for performances to other public places.
Horsecross is encouraging a range of organisations – such as schools and community venues – with a private garden or car park, who wish to host Gig on a Truck, to get in touch.
Gig on a Truck is paid for through funding from the Gannochy Trust.