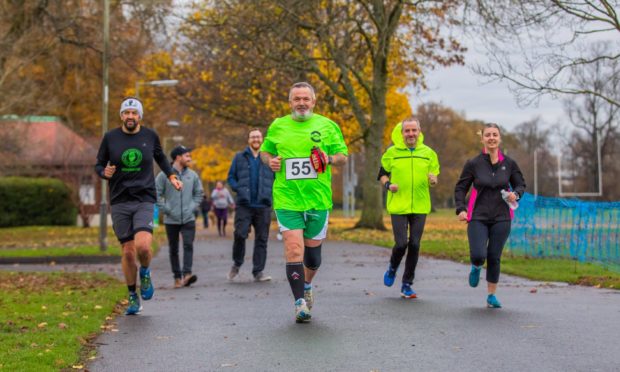 A Perth endurance runner racked up 55 miles by completing laps of the North Inch on Thursday to celebrate a milestone birthday, raising more than £2,500 for a local charity.
John Cassidy began his endurance challenge at 5.55am as he hoped to raise £555.55 for the C200 fund, a Perth charity which provides support to 16 to 25 year olds who have recently left care.
By the evening, John, donning number 55, completed his final lap, crossing the finish line after running back-to-back marathons.
"I've done a few ultramarathons," he said. "Normally over the course of the year, I compete in 5ks, 10ks, half marathons, marathons and ultramarathons.
"Due to Covid-19, most if not every event got cancelled, except a few virtual ones. It was always my intention to raise some money for C200 and do something to mark my 55th birthday.
"They're a local charity who provide support to care-experienced people which was set up by a couple of my colleagues at Perth and Kinross Council."
John took up running in 2012 after pushing himself to complete an NHS "Couch to 5k" challenge and has not looked back.
The challenge started 55 days after John's birthday, a number central to his feat.
Requiring 36 and a half loops of the Perth park, John never went a minute without someone by his side.
He added: "I never had one minute running on my own. It makes it much easier having someone beside you.
"My family set up a tent at the side and passers-by who didn't know me donated more than £100 that's still to be added. The generosity has been phenomenal.
"I bumped into pupils heading into St John's Academy in the morning and I bumped into them on their way out in the afternoon. I met dog walkers out first thing in the morning and out again late in the afternoon.
"There were workmen putting up lampposts on the Inch who got set up and completed the job while I still running."
Amongst those supporting John was Murray's Bakers, who baked him a pair of special pies with number fives made of pastry on top.
With inclement weather early in the challenge, John says his feet are paying the price now but says that he's aiming to be back pounding the pavements again next weekend.
C200 said the accomplishment was "truly is epic" and "really showcases the great guy he is."