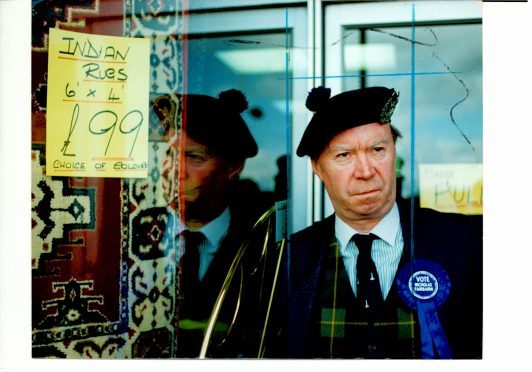 Shamed politician Sir Nicholas Fairbairn has become embroiled in fresh claims of sexual misconduct, more than 20 years after his death, following accusations he assaulted a journalist during a live radio broadcast.
Dame Ann Leslie claimed she was groped by Fairbairn during an appearance on the BBC 4 current affairs show Any Questions?.
The politician was Conservative MP for Kinross and Perthshire West from 1974 to 1983 and for Perth and Kinross from 1983 to 1995, as well as serving as Solicitor General for Scotland from 1979 to 1982. He died in 1995.
During an interview with Channel 4 News, Dame Ann Leslie – a respected foreign correspondent – said: "I did Any Questions?, which is live, and I'm there sitting next to one of the panellists, who is a man called Sir Nicholas Fairbairn, and I suddenly realised that he had his hand up my crotch.
"I was so furious, but also scared."
The 76-year-old also spoke of her regret that she did not confront him at the time over the groping incident.
She said she wished she had told him: "If you do that again I will tell Jonathan Dimbleby (the show's host) that I can't answer any questions until Sir Nicholas takes his hand out of my crotch".
Dame Leslie added: "I didn't say it, but I always wished I had."
The Conservative Party and the BBC were asked to comment on the allegations but had not done so at the time of going to press.
It is not the first time Fairbairn has been at the centre of allegations of serious sexual misconduct.
In late 2013 and early 2014, there were calls for a full investigation into claims he had sexually abused children.
Accusations from a woman who said Fairbairn raped her when she was just four came hard on the heels of a claim he had visited the notorious Elm Guest House in London in 1982.
The venue hosted parties where vulnerable boys were sexually assaulted. It has been at the heart of a major police investigation for some time.
Fairbairn, who lived at Fordell Castle near Dunfermline, was a flamboyant eccentric who designed his own clothes, struggled with alcoholism and juggled the twin occupations of lawyer and politician.
In 2014, efforts by the Perthshire MP to conceal his private life from his constituents were also uncovered.
Freshly discovered documents contained demands that reporters should be banned from investigating his private life and those of other politicians.
In the correspondence to the Commons standards watchdog, which was placed in the National Archives, he called for press freedom to be "restricted".
Fairbairn also claimed politicians should be protected from having their sexual behaviour exposed.
"Adultery and fornication have been the habit of most of humankind since Adam and Eve first committed the latter," he wrote a few months before his death.
"Is there some ethical reason why those in public life should be holier than thou?
"Should they have the piety of monks and nuns?
"The House of Commons has already been diminished by the increasing habit of party organisations selecting candidates who are 'squeaky clean'."