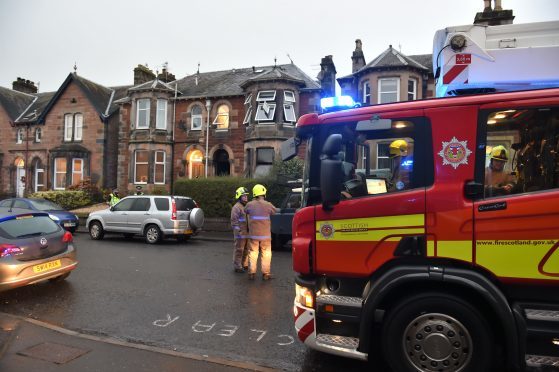 A Perth family has been left picking up the pieces after a devastating early morning house fire.
Emergency crews were called to the property in Friar Street, Craigie, just after 7am.
Neighbours raised the alarm when they smelled burning and heard a smoke detector bleeping.
The ground floor home, which was empty at the time, was well alight when firefighters arrived. The crew used a hose reel jet to bring the blaze under control within 40 minutes.
Flames caused widespread damage throughout the flat and also affected the vacant property upstairs. Firefighters managed to prevent the blaze spreading to neighbouring properties.
Charred items including bedding and clothes were removed from the house by firefighters and piled up at the front of the building.
The cause of the fire is still being investigated. Police officers stood guard outside the flat until its owner arrived.
Locals said the young man who stays there had spent the night at a friend's house. The property is owned by his mother. The family has declined to speak.
One resident said: "He's lost everything. All of his clothes, belongings and furniture have just been destroyed.
"Its such a terrible thing to happen just before Christmas."
Another said: "I woke up to the sounds of sirens in the streets and looked out to see the blue flashing lights.
"There was an ambulance parked outside, so I feared the worst. It was a relief to hear the place was empty."
A fire service spokesman said the blaze  was extinguished by 7.40am and all occupants were quickly accounted for.
Police Scotland confirmed there was no suspicious circumstances surrounding the incident.
Earlier this month, the Scottish Fire and Rescue Service issued a warning to families to be vigilant about potential fire risks over the festive season.
Crews across Scotland were called out to 517 accidental house fires between December 7 and January 11 in 2016, almost double the 230 incidents the previous year.
In particular, fire chiefs highlighted the potential impact of increased use of heating and electrical appliances – as well as greater alcohol consumption at this time of year.