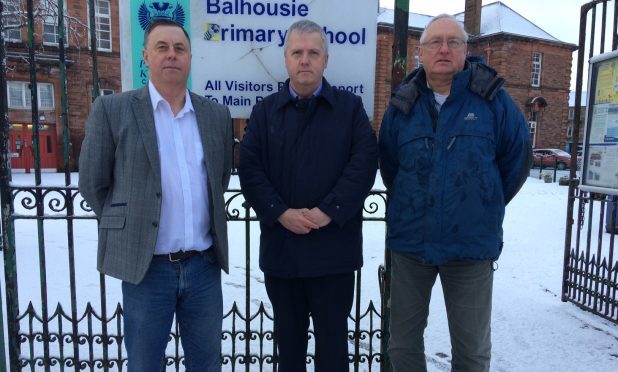 A fierce political row is brewing over plans to shut down one of Perth's oldest schools.
The Edwardian era Balhousie Primary has been targeted for closure as part of a Perth and Kinross-wide review.
On Wednesday afternoon, councillors will be asked to approve a new consultation on plans to transfer the school's 100 pupils to a £16 million new-build at North Muirton.
Members of the lifelong learning committee have been told that closure is the "only reasonable option" and it would cost an extra £4.4 million to bring Balhousie up to scratch.
But the move has angered parents who have praised the school and called for it to be retained.
SNP councillors have now promised to try and block the proposal before it goes any further.
The party's local education spokesman John Rebbeck, said: "There is always grave concern about this Conservative-led administration's desire for cutting services in working class communities.
"The Tories clearly believe they will pay a small political price for their actions here and so this is the community they plan to deprive of a local school."
He said the proposal will be opposed by all five SNP members on the committee. "Regardless of the decision on Wednesday, we will continue to work as hard as possible for the retention of Balhousie school and for it to have a bright future, serving its local community," he said.
Councillor Andrew Parrott added: "It is great news for North Muirton that their primary school will be replaced with a state-of-the-art building, which will transform their learning environment beyond all recognition and of course, we fully support this.
"However, the administration's proposal to close Balhousie school when every single response from parents (in an online survey) was to retain the school, is spectacularly unrepresentative and makes a shameless mockery of consulting with communities."
He said: "The school has just appointed a new head teacher and as a local member, I firmly believe that Balhousie school should be invested in to go on serving its local community, in a way that North Muirton can't, and as it has done for many years."
Councillor Eric Drysdale added that Balhousie and North Muirton were "two separate communities, each with their own distinct identities and each deserving of their own local primary school".
He said: "It is simply baffling to see so many new houses being built or nearing completion in Balhousie schools catchment at Muirton Park, and yet this is the school the Tories are seeking to close. This is either cynical political opportunism or gross incompetence – either way we must work together to stop it and save this school."
A council spokeswoman said: "If the option to proceed with undertaking a statutory consultation to close Balhousie Primary School is approved tomorrow, that process would be undertaken following the relevant legislation and would involve all required stakeholders.
"Parents, pupils, staff and communities would be given the opportunity to engage fully in the consultation process."
She added: "There are many challenges to be considered and addressed as part of the review of the school estate including the need to spend wisely to secure the best value for money. The school estate is a valuable asset to the communities of Perth and Kinross and there is significant investment planned for the school estate in coming years.
"The outcomes from any statutory consultation would be presented to a future Lifelong Learning Committee for consideration."