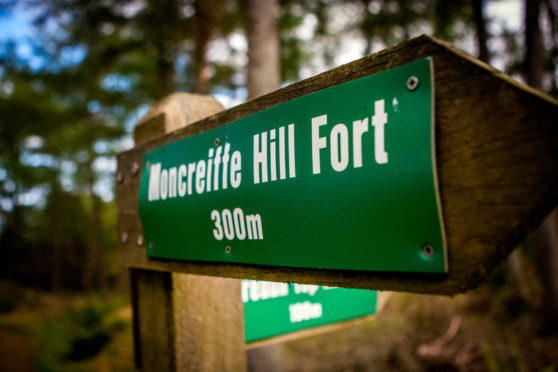 Out-of-control dogs are causing chaos at one of Perthshire's top walking and beauty spots as lambing season approaches.
Moncreiffe Hill Wood, just outside Perth, has been blighted by problems in recent weeks, including livestock disturbance, fouling and instances of loose animals jumping on people.
Woodland Trust Scotland has been forced to appeal for "better behaved dogs and dog owners" with problems escalating.
Its campaign comes at a hugely sensitive time for the area around the wood, where many farmers are currently preparing for lambing.
In an effort to crack down on anti-social behaviour, Trust staff and volunteers will be patrolling the main entrances and walks to raise awareness of the need to be responsible.
Posters with a canine code of conduct have been put up at all the entrances to Moncreiffe Hill and woods.
Council dog wardens, who can issue fines for fouling, are also going to give the woods some extra attention.
"Problems seem to be increasing so we think it is time to steer dog owners back to better habits," said Trust spokesman George Anderson.
"This is a critical time in the farming year and it is essential that sheep and cattle are not disturbed. There have been reports lately of gates left open and dogs running into fields.
"We also hear of dogs generally running loose and jumping up on other walkers. This is not acceptable. The woods are for everyone, not just dog walkers.
"We also ask that poop be bagged, then binned or taken away as it constitutes a serious health risk to people and other dogs.
George added: "We just need to get things back on track so that everyone can enjoy the woods."
"There are of course many people doing the right thing already and we hope they will be pleased to see good conduct given encouragement.
"It is a fantastic wood and it would be a great pity if ongoing problems stopped the public enjoying it to the full."
The Trust's pleas come as Scotland's farming communities are playing their own part in appealing for dogs owners to take extra care in the coming months.
Livestock worrying has emerged as one of the fastest spreading rural crimes with a number of serious incidents reported in Perth and Kinross and across Scotland in the past 12 months.
In Monday's edition of The Courier, Fife farmer Colin Black recalled the terrible moment a dog mauled his flock of sheep on the Balbirnie Estate at East Lomond.
One pregnant ewe had to be destroyed.
The issue has been raised on multiple occasions in the Scottish Parliament and with lambing season just around the corner partners have joined to raise awareness of the issue and urge owners to keep animals on the leash when near livestock.
They include Police Scotland, SNH, the NFUS, Scottish Land and Estates, the Kennel Club and the National Sheep Association.
Mid Scotland Fife Conservative MSP Liz Smith has backed the campaign and said: "Every dog has a natural instinct to run and chase down sheep and even if livestock exhibits no physical injuries the stress caused by this can cause pregnant ewes to abort their lambs.
"Combatting this crime relies on the public having greater awareness of not only the serious consequences of livestock worrying but of their own responsibilities when out and about in the countryside."