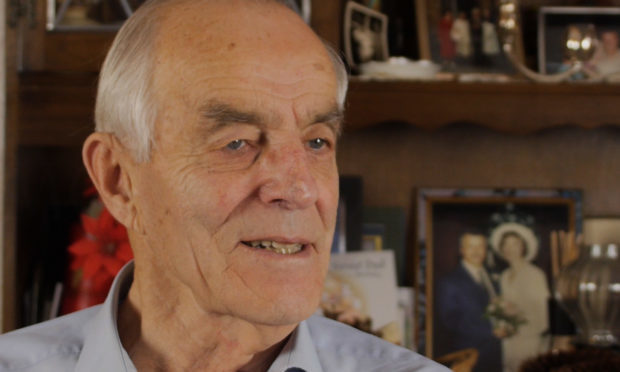 A Nazi soldier was smuggled out of a Perthshire POW camp and taken to a local cinema disguised as a schoolboy.
The remarkable night out enjoyed by Waffen SS officer Heinrich Steinmeyer is one of many revelations in a new film about Cultybraggan camp at Comrie.
The documentary aims to shine a spotlight on life behind the barbed wire at the compound, near Crieff.
Documentary makers have interviewed former POWs, their families and local villagers for the revealing feature.
A 45-minute taster of the full length movie will be shown at the camp next month.
Cultybraggan, known as Camp 21, housed up to 4,000 prisoners including many zealous Nazis as well as trouble-makers from other POW lock-ups around Britain.
A spokesman for documentary-maker Mousehole Films said: "The film focuses on the unique relationships built up between POWs and Comrie people in the years around the Second World War.
"Many German POWs, sent to Cultybraggan because they were regarded as dangerous Nazis, settled in Scotland after the war."
Among those locked up at the compound was Paul Lippok, who moved to Tain, Ross-shire after his release. He is interviewed for the film, as is June Smith, whose ex-POW father Otto Heuer settled near Comrie.
Also featured are Shirley Wilson, whose family developed a close relationship with young POW Helmut Stenger, and George Carson whose mother was one of a group of girls who helped get Steinmeyer out of the camp for a night at the pictures in Crieff.
He was disguised in school uniform to avoid suspicion from fellow cinema-goers.
Steinmeyer was so touched by the kindness shown by local people that he left his estate and home, worth nearly £400,000, to the people of Comrie. He also had his ashes scatted on the hills overlooking the camp.
The film also includes an interview with Rhona and Catriona Smyth, who tell of how their mother Myra McQueen at Comrie Post Office regularly watched columns of POWs marching through the village to the camp.
Film makers Adrian Bean and Caroline Strong also followed work carried out by Glasgow University's Battlefield Archaeology Group last summer, as members dug for evidence of escape tunnels.
The film will be previewed on Saturday, May 12, as part of Carry On Culty, a fund-raising event organised by the Comrie Development Trust which took over the camp.