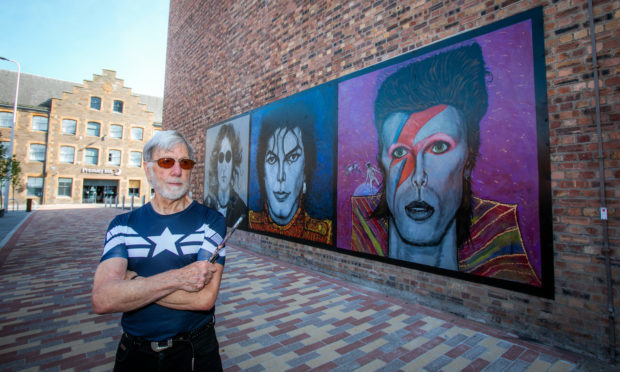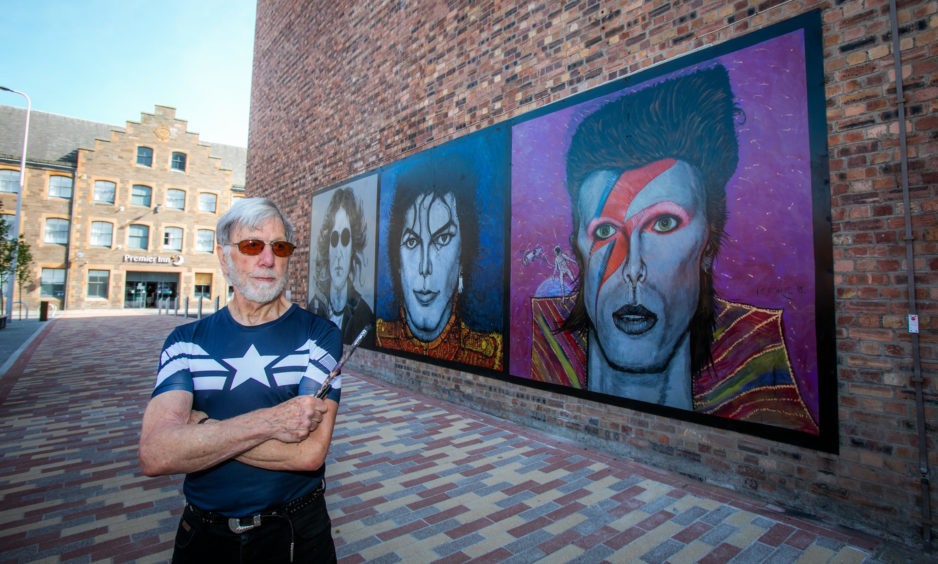 An under pressure artist whose dead rock star portraits have fallen foul of council bosses and property owners in Perth has taken the wraps off his latest creation.
A 10ft tall image of David Bowie has been installed in the city centre, next to similarly sized paintings of John Lennon and Michael Jackson.
Ian Cuthbert Imrie's eye-catching artwork on Mill Street appears to be a hit with shoppers, but he has been been ordered to take them down.
He was contacted by agents acting on behalf of the building's owners, demanding he remove the paintings and repair any damage to the brickwork.
Perth and Kinross Council has also told Mr Imrie to take down the portraits by the middle of next month, or pay for a planning application.
Unveiling the David Bowie piece, Mr Imrie said he was refusing to back down. "And if they put a finger on them, I will sue," he said.
"The whole point of street art is to bring it to people who might not normally go to museums and galleries," he said.
"The response from the public has been overwhelmingly positive. People who were at Scone Palace for Rewind at the weekend made a special trip into Perth to see them and take pictures," he said.
The art was commissioned by several local businesses and Mr Imrie said proceeds would go to local social enterprise project Giraffe.
Mr Imrie said paying for a planning application would cancel out money to charity. "This is way above planning matters like a bungalow extension or installing double glazing," he said. "The council has allowed other public art in the city centre, so why not mine?"
A spokeswoman for property consultants Knight Frank, who represent the building's owners, said: "The paintings which have been pinned to our client's property on Mill Street were installed without the owner's prior consent and also breach Perth and Kinross Council's planning control regulation.
"The street is a conservation zone managed by Perth and Kinross Council, for which plans to commission approved artwork are already in place. Knight Frank will continue to work closely with Perth and Kinross Council on this matter."