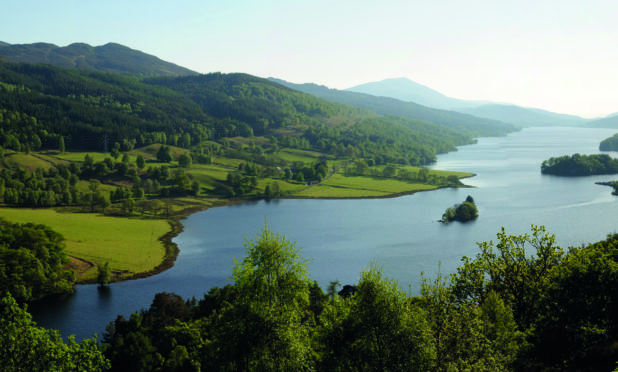 Electricity pylons could be camouflaged with woodland colours as part of a multi-million-pound plan to improve one of Scotland's best known beauty spots.
Power giant SSE has unveiled proposals for a radical upgrade of its infrastructure at Loch Tummel in Highland Perthshire.
The plans aim to soften the effect of power lines and lattice towers at the world famous Queen's View.
Scottish and Southern Electricity Networks (SSEN), part of the Perth-based SSE Group, revealed its strategy at an event in Pitlochry Dam on Friday.
The company hopes to secure a slice of £500 million from government regulator Ofgem to fund its Vista project.
Ofgem is offering power firms across Britain money to mitigate the effect of their structures on national parks and important scenic spots.
SSEN proposes painting 28 steel lattice towers between Frenich Wood and Netherton in a darker shade, which will help hide them amongst the woodland backdrop on the north side of the Tummel.
Photo-montages were created for Friday's display, showing how the towers will look in the two preferred colours schemes.
A SSEN spokesman confirmed the towers painted would include all those visible from Queen's View, and others that are especially prominent in the area.
The company is also working with Pitlochry Estates on a woodland management plan aimed at reducing the visual impact of structures around Duntanlich and Netherton.
Forestry consultants RTS have been tasked with drawing up plans for the area. The proposals involve felling around 35 acres of commercial conifers.
"The aim of the project is to create a gradual transition between the open wayleave and dense woodland, that will better integrate the infrastructure into the landscape," the spokesman said.
"The areas of more diverse backdrop were noted to better absorb the towers in views, and the project will replicate this landscape condition across the project area."
Euan Smith, who is leading the Vista project, said: "Vista offers a unique opportunity to look again at our existing transmission assets and mitigate their impact on some of Scotland's most precious landscapes.
"Over the last two years we have worked closely with a wide range of stakeholders to identify potential schemes to take forward, and we will shortly be submitting our first funding application to our regulator for our Loch Tummel Vista scheme."
SSEN is also considering landscaping work for Loch Rannoch and is progressing engineering work in the Highlands.
The Queen's View vantage point looks out directly to the west along Loch Tummel.
A popular destination since Victorian times, it is often thought the location was named after Queen Victoria, who visited in 1866.
However, it is more widely believed to have been named after Queen Isabella, the 14th-century wife of Robert the Bruce who used the spot as a resting place on her travels.