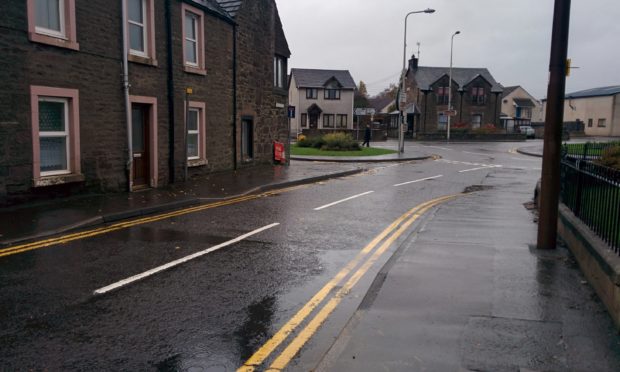 Businesses will close and jobs will be lost if plans to close a key road into Crieff go ahead, locals have warned.
Proposed gas works could see the main route to the town from the central belt, the A822, shut for up to six weeks next summer.
This includes the bridge over the River Earn, which connects Crieff town centre to tourist hot spots including the visitor centre.
It is the latest in a five-phase plan by gas company SGN to replace old pipes but members of Crieff Succeeds Business Improvement District (BID) have warned a loss of summer tourist trade could be the death knell for local companies.
Crieff Succeeds chairman Graham Donaldson said: "I was deeply concerned to learn of this proposal and want to draw attention to the plan now, so that we have time to find an alternative solution which is acceptable to the businesses of Crieff and SGN alike.
"The implications of closing this key road which connects Crieff to the south are substantial and would have a significant negative impact on many local businesses, with the potential to lead to some business failures."
This was echoed by Crieff Visitor Centre managing director Stuart McLaren. The centre hosts a restaurant, shop and garden centre, as well as the five-star Caithness Glass factory and employs 30 people during the summer.
"Most of my business comes from people who are in the town who won't be able to get to me now, as well as losing all the passing trade from Stirling and Glasgow," said Mr McLaren.
"A long term closure in the tourist season will probably be fatal for my business.
"I will be the worst affected but there are others like me, this will cost jobs.
"Nobody has considered what this will do to the town. If it was 10 days in January we could probably cope but we will never survive six to eight weeks in the summer."
The Courier reported last week that crucial safety improvements to the junction between Broich Road and King Street in Crieff will be delayed due to the gas work.
The safety measures were due to start in October but have now been pushed back until after SGN staff finish working on the street.
The road safety improvements follow an accident almost three years ago in which a double-decker bus hit a local woman, causing life-threatening injuries.
Strathearn SNP councillor Stewart Donaldson is calling on Perth and Kinross Council administration to work with SGN to consider ways to keep the road open.
"There must be a co-ordinated plan of action between the council and SGN, with proper public consultation, nothing less will do," he said.
"Local residents and businesses must be consulted and given some certainty."
A spokeswoman from SGN confirmed that work will start next summer, although she could not say how long it is expected to last.
"Our next phase of upgrade work in the area has been planned in for next year," she said.
"After close consultation with the local council, we are planning to start that work in June as agreed."
A council spokeswoman pointed out that SGN has not yet been given permission for the road closure.
"We are aware of, and share, the concerns of residents regarding suggestions currently circulating locally about the proposed works and their duration and impact.
"We would like to reassure members of the public that we have neither received nor approved any plans for the works, nor any road closure application.
"The council is currently seeking an update from SGN regarding the proposed project, with a view to the consultation process as required beginning as soon as possible."